Digital pathology gives functionality far beyond the microscope. Without the need for physical glass slides, you get access to current and historical images – from anywhere and at any time. Sectra's leading clinical production system for digital pathology is equipped to handle large volumes at peak performance.
Partnering with Sectra has allowed us to seamlessly deliver a start-of-the-art digital pathology solution to all our customers, wherever they are in the world. Sectra provides the RCPAQAP with an image quality that was never previously possible. This new capability allows us to host fully z-stacked images from disciplines including histopathology, cytology, haematology, immunology and microbiology. Our customers are delighted with the ease of use and performance of the solution, and most importantly, it has helped us advance pathology quality assurance globally.
Derek Holzhauser (CMLS), The Royal College of Pathologists of Australasia, Quality Assurance Programs
Rapid and more consistent reviews
Sectra's high-end review application provides the right environment and tools for pathologists to perform their daily work in a digital system and reduces the pain points associated with time-consuming and labor-intensive manual workflow. Time can be used more efficiently by performing advanced diagnostic work while the computer performs time-consuming tasks, such as organizing samples and glass logistics. The application's extremely fast image display supports quick and accurate diagnoses of histopathology cases.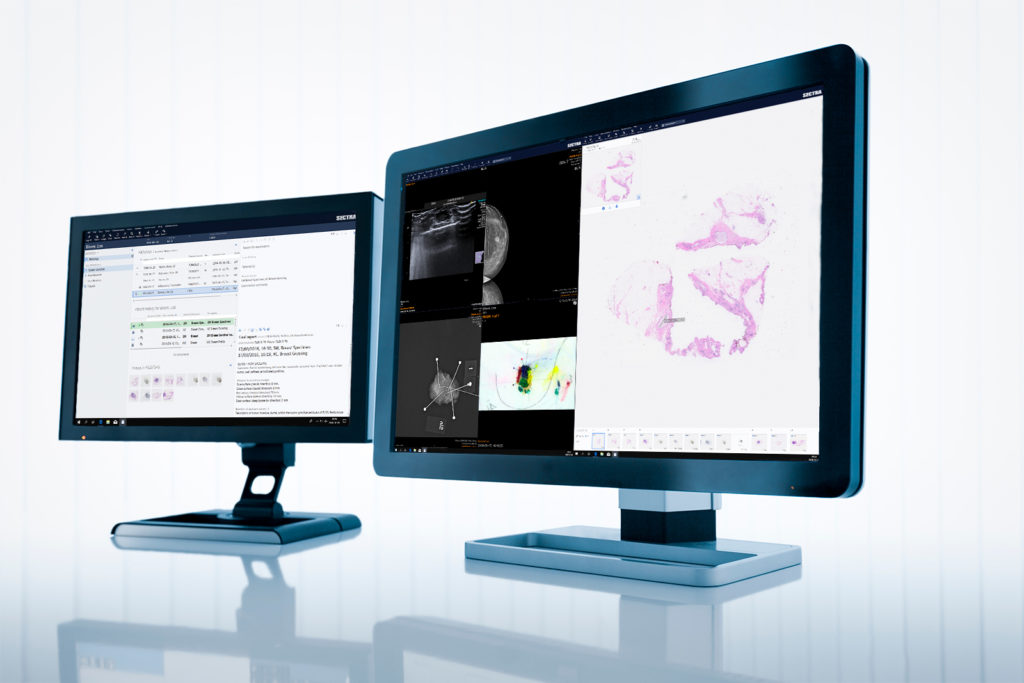 Vendor-neutral solution
With a vendor-neutral approach, the Sectra solution provides a full case overview, including pathology images, images from macro cameras, as well as patient information from the EMR and LIMS in the same application. Having the possibility to perform all daily tasks from a single workstation with instant access to images enables efficient pathology workflows. This is especially beneficial in primary diagnostics, where large volumes are handled.
#1 in customer satisfaction in digital pathology
Sectra won the very first Best in KLAS award for the new category Digital Pathology (non-US) in February 2021. Since the launch of the Sectra Digital Pathology Solution in 2015, it has grown to support full-scale primary diagnostics at large healthcare providers worldwide.
Inspiration and resources
Webinar: Successful digital pathology implementations around the world — common denominators
Event
| Digital pathology
Let's talk
Got questions or interested to learn more? Don't hesitate to get in touch.