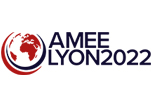 Join us at AMEE 2022!
We are excited to invite you to join Sectra at AMEE 2022 in Lyon — the 50th anniversary conference for anyone involved in medical- and healthcare professions education. We will showcase our solutions that help ensure quality and clinical relevance in medical education through interaction and visualization. For more information about the event, visit the official event website.
Come experience our SaaS solution that helps transform medical education across the board, from institutions of higher education to postgraduate education, creating a system that prepares students to meet the needs of today's patients and anticipate the changes of tomorrow. Sectra Education Portal provides advanced visualization tools and a multidisciplinary library of real anatomy and clinical cases, and ties in anatomy, histopathology, radiology, trauma, orthopedics, oncology, surgery and other specialties.
Sahlgrenska Academy, Gothenburg, Sweden
How digitized histopathology training can offer advantages over microscopes
Case
| Medical education
| Digital pathology