San Diego, California
Booth #439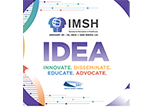 Welcome to our booth at the IMSH 2024!
We strive to provide top-quality medical education to students and healthcare professionals. Our aim is to prepare learners for real-life scenarios by providing hands-on experiences in a safe and controlled environment. If you are passionate about improving patient outcomes, then we welcome you to visit booth #439 at the IMSH 2024 to learn more about the exciting world of Sectra. For more information about the event, visit the official event website.
Explore. Engage. Educate.
Medical education has come a long way with the integration of technology. Sectra's cloud-based teaching platform, the Sectra Education Portal, provides an excellent opportunity to learn and develop skills and expertise needed in the medical field. We use clinical images and tools used in real-life scenarios and believe this is a way to inspire and provide important insights into the practical side of medicine. This realistic learning environment allows learners to gain confidence and hands-on experience before they interact with actual patients.
Product
| Medical education
University of Bradford, West Yorkshire, United Kingdom
Cross-disciplinary learning enabled through cloud-based solution
Case
| Enterprise imaging
| Medical education