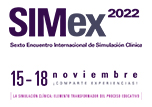 Join us at SIMex 2022!
We are excited to invite you to join Sectra at SIMex 2022 in Mexico City. You can find us in booth #20 where we will showcase our cloud solution for medical education. For more information about the event, visit the official event website.
Come experience our SaaS solution that has helped transform medical education across the board, from institutions of higher education to postgraduate education, to create a system that prepares students to meet the needs of today's patients and anticipate the changes of tomorrow.
Sectra Education Portal is an integrated platform that gives you the full strength of the Sectra portfolio, adapted to medical teachers and students, including advanced digital tools and real patient cases. In this way, we help bring clinical reality to medical education, creating a bridge between theory and practice. Students can interact with medical images in a realistic way, which creates a deeper insight into anatomy as well as functions and processes in the body.
Product
| Medical education
Sahlgrenska Academy, Gothenburg, Sweden
How digitized histopathology training can offer advantages over microscopes
Case
| Medical education
| Digital pathology