I dag skal mange patienter besøge flere afdelinger i deres behandlingsforløb. Dette betyder, at billeder og patientens historik spredes i flere forskellige systemer. I et patientcentreret scenarie har hospitaler brug for enkle og omkostningseffektive måder til at dele billeder og patientinformation på uden at gå på kompromis med patientens integritet eller informationssikkerhed.
En velimplementeret løsning til informationsdeling gør dette muligt på alle niveauer – lokalt, regionalt eller endda nationalt. Som et resultat kan en bedre patientdiagnose stilles med væsentligt reduceret behov for genindkaldelse, hvilket igen giver sundhedsudbydere omkostningsbesparelser – og reducerer den samlede stråledosis til patienter.
Sectras IEP-løsning er funktionel, intuitiv, stabil, hurtig og generelt meget brugervenlig.
Peter Flensborg, ledende overradiograf, Hillerød Hospital
Vi har nu mulighed for at behandle akutpatienter, da vi ikke længere skal vente flere dage på at få tilsendt patientens billeder fra en anden enhed.
Susanne Mark, afdelingsledelsessekretær, Hillerød Hospital
Sectra Image Exchange Portal
Sectra Image Exchange Portal (IEP) lader sundhedsudbydere, patienter og andre effektivt og sikkert udveksle og få adgang til billedinformation. Den cloud-baserede og leverandørneutrale løsning giver mulighed for at dele uden behov for cd'er, USB-drev eller papirkopier – hvilket hjælper med at sænke omkostningerne, undgå unødvendige undersøgelser og forbedre patientens datasikkerhed. Kort sagt hjælper Sectra IEP sundhedsvæsenet med at dele mere viden og information og sørger for, at de relevante patientoplysninger er tilgængelige, når og hvor det er nødvendigt.
Nordsjællands Hospital, der består af hospitalerne i Hillerød og Frederikssund samt Sundhedshuset Helsingør, har siden april 2020 brugt Sectras IEP-løsning. Opstarten af projektet var udfordret af Corona-situationen men kunden modtog onlineundervisning i produktet i starten af april og startede produktion umiddelbart derefter.
"Vi valgte Sectras IEP-løsning efter et par måneders prøveperiode. Det gav lidt sig selv, at vi ville fortsætte efter prøveperiodens udløb. Løsningen virker og hvis du spørger mig, burde IEP være indbygget i alle PACS-systemer," siger ledende overradiograf på Hillerød Hospital Peter Flensborg. Morten Thomsen, radiograf og systemadministrator på Hillerød Hospital supplerer: "I løbet af prøveperioden testede vi systemet sammen med kolleger fra andre hospitaler. Det er et rigtig godt system, der tillader at brugerne kan se alt fra alle devices, hvilket der er en forventning om i dag. Alle var tilfredse, så den lå lige til højrebenet, at vi skulle fortsætte med løsningen."
Lavere omkostninger og bedre diagnostisk kvalitet
Med Sectra IEP undgår man cd´er, USB-drev, telefon/fax eller alle punkt-til-punkt-forbindelser, der benyttes til billeddeling i dag.
Det giver mulighed for at øge informationsudveksling med andre uden at tilføje en masse arbejde eller omkostninger. Dette fører igen til bedre diagnostisk kvalitet, da læger har adgang til en mere komplet patienthistorik i diagnosticeringsprocessen, herunder f.eks. multidisciplinære teammøder. Adgang til historiske undersøgelser til sammenligning gør det lettere at følge op på behandlingen og kan derfor forbedre patientens resultater.
"Vi kan nu modtage og besvare forespørgelser på billeder rigtig hurtigt," siger Susanne Mark, sekretær for afdelingsledelsen på Hillerød Hospital og fortsætter: "Vi skal ikke længere bruge tid på f.eks. at brænde cd´er og sende dem afsted med posten. Samtidig skal vi heller ikke have maskiner stående, der skal vedligeholdes. Vi sparer både tid og penge på noget, der i sidste ende kommer patienten til gode, da billeder kommer hurtigt frem uden ventetid. Det betyder også, at vi nu har mulighed for at behandle akutpatienter, da vi ikke længere skal vente flere dage på at få tilsendt patientens billeder fra en anden enhed."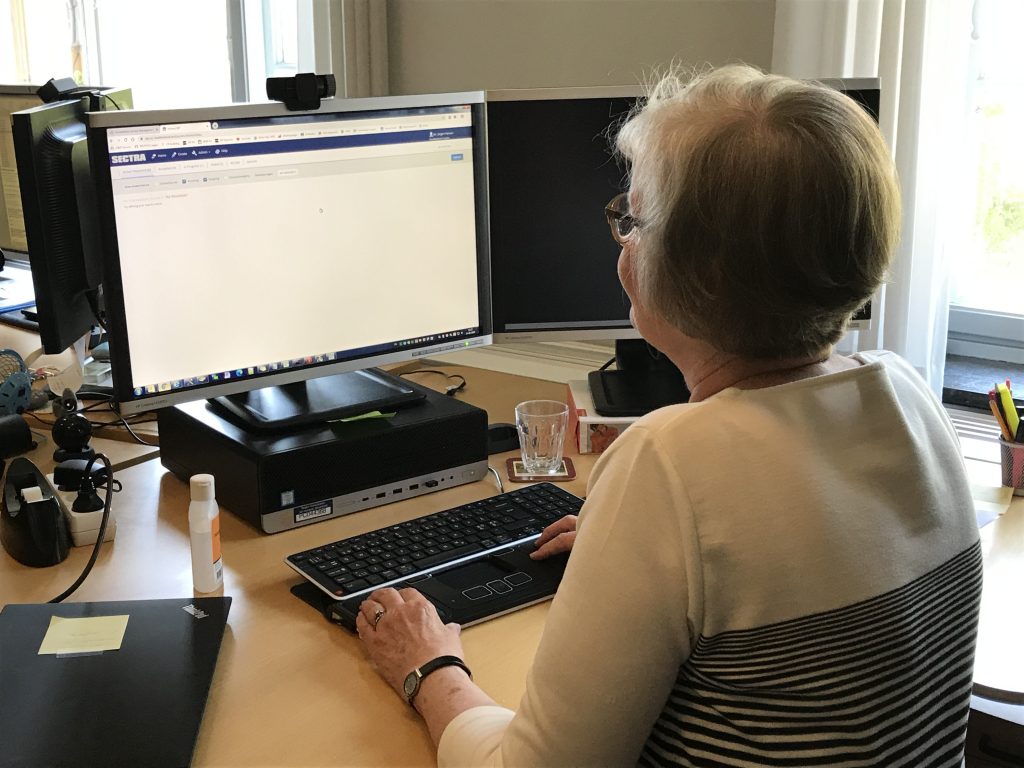 Stol på, at oplysningerne opbevares sikkert
Mange eksisterende måder at udveksle billeder på – inklusive cd´er, USB-drev og ikke-krypterede forbindelser – indebærer stor risiko for sikkerhedsbrud og krænkelser af patientens dataintegritet. Sectra IEP giver en komplet audit logning stærk autentificering og omfattende datakryptering. Løsningen leveres ved hjælp af Sectra HealthCloud, der er specifikt udviklet til at håndtere følsomme sundhedsdata. Ved hjælp af denne løsning er man sikker på, at data opbevares sikkert, og at man overholder gældende lovkrav til deling af patientdata.
"Man skal lige vende sig til en lidt anderledes måde at logge på systemet på," fortæller Peter Flensborg om deres nye IEP-løsning og Morten Thomsen supplerer: "Det tager måske lidt længere tid at logge på, men vi vægter den høje sikkerhed i Sectras system meget højt og bruger derfor gerne lidt ekstra tid her, for i sidste ende sparer vi tid og får mere effektive arbejdsgange med Sectras løsning."
En brugervenlig løsning og én fast kontaktperson
Den cloud-baserede løsning kræver ingen lokal hardware og er let at oprette forbindelse til. Som en webbaseret løsning sker udvekslingen af oplysninger let — hele vejen fra den webbaserede visning og filupload til den fuldautomatiske og intelligente billeddeling.
"Sectras IEP-løsning er funktionel, intuitiv, stabil, hurtig og generelt meget brugervenlig," siger Peter Flensborg. IEP-løsningen har også været et samtaleemne på tværs af lokationer. "Brugerne ude af huset er glade for løsningen og mange spørger interesserede ind til den. Det undrer mig, at man ikke er kommet længere andre steder," siger Morten Thomsen.
Som en del af leverancen har Nordsjællands Hospital en Service Delivery Manager fra Sectra tilknyttet, hvilket betyder, at hospitalet har én fast kontaktperson de kan kontakte omkring produktet. "Vi ser helt klart en fordel i at have én indgang til Sectra," siger Peter Flensborg og fortsætter: "Statusmøder afholdes med den samme person hver gang, hvilket gør opfølgning meget lettere."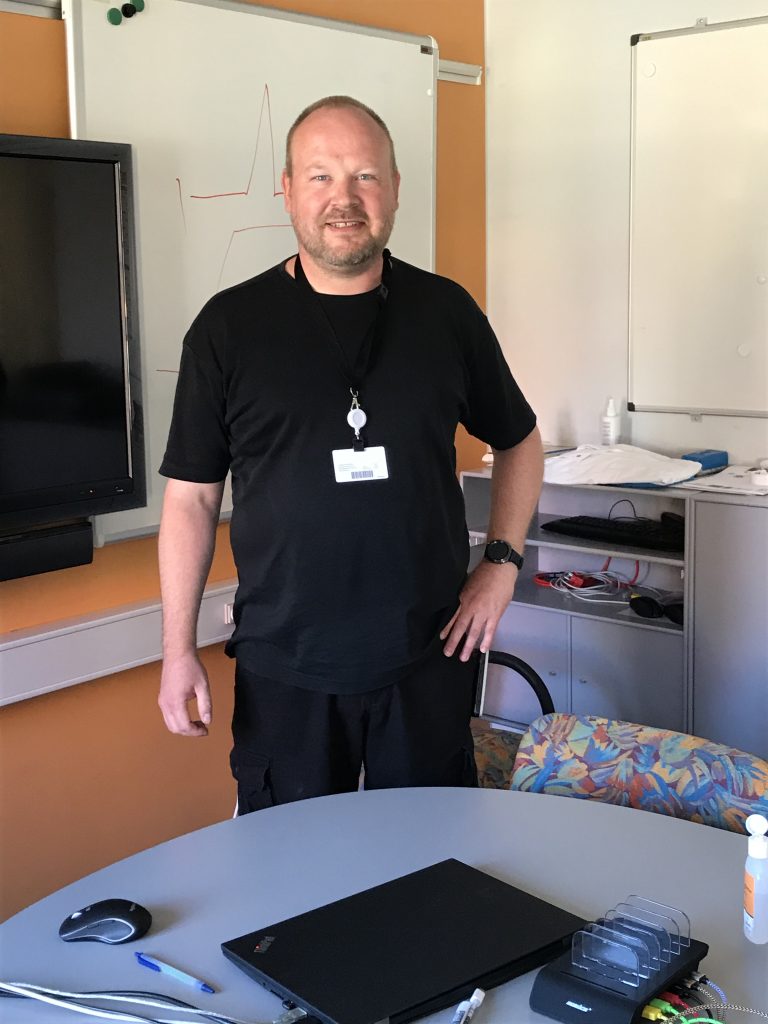 Et godt samarbejde
Gennem hele projektet har der været et tæt samarbejde mellem Nordsjællands Hospital og Sectra. "Samarbejdet med Sectra har fungeret rigtig godt," siger Morten Thomsen og fortsætter: "Gennem hele projektet har der været et rigtig godt informationsniveau og vi har fået hurtigt svar på vores forespørgsler. Sectra er nede på jorden. De siger tingene som de er og er ærlige omkring deres produkter. Det er meget positivt for os som kunde. Derudover sætter vi stor pris på, at det er et skandinavisk firma. De tænker skandinavisk og forstår de udfordringer vi møder i det danske sundhedsvæsen."
Én løsning til effektiv billedudveksling
Med Sectra IEP kan man effektivt udveksle forskellige typer undersøgelser inden for den samme platform. Uanset om det er radiologi, kardiologi – eller noget andet – kan man sikkert uploade, se og downloade oplysninger ved hjælp af Sectra IEP. Den unikke evne til at håndtere mange forskellige billeder fjerner behovet for separate løsninger til hver afdeling – og er en nøglekomponent i en vellykket billedhåndteringsstrategi.
Norrland's University Hospital, Umeå, Sweden
Modern telemedicine solution enables cross-border collaboration
Case
| Share and collaborate