Sectra Breast Imaging PACS is a comprehensive, vendor-neutral, breast imaging solution supporting both high-volume screening, advanced diagnostic workflows as well as telemammography services. It gives you a full patient overview by allowing you to read all types of radiology images such as mammograms, MRI, and tomosynthesis—all from a single workstation. It is a scalable solution that lets you grow without limits on the same platform. Specializing in breast imaging PACS for almost 20 years, Sectra has an installed base that includes some of the world's largest and most prominent breast imaging centers. Sectra's KLAS-awarded PACS is praised by users around the world for its ease of use, rock-solid nature, and versatility in allowing radiologists to perform the vast majority of their workload from a single application.
Sectra PACS integrates well with any RIS and EMR. In Scandinavia, the UK, and Benelux, Sectra offers its own RIS. In other markets, Sectra PACS integrates tightly with local RIS or EMR providers for efficient and seamless image acquisition and diagnostics. The workflows described below are achieved either through these integrations or with our own portfolio.
We've found that only Sectra's Breast Imaging PACS delivers on the combined promise of double-read workflow, image quality and distribution speed across all of our high-volume breast imaging modalities. This has improved our overall workflow and report turn-around.
Dr. Stamatia Destounis, managing partner of Elizabeth Wende Breast Care, USA
The quadrant zoom helps me focus on one portion of the breast while scrolling through the tomosynthesis images. Sectra's scrolling text option makes marking images efficient, and the ability to communicate with the technologists in real-time using the chat functionality during diagnostic work ups facilitates the day's workflow and efficiency.
Dr. Donna Plecha, Assistant Professor and Director of Breast Imaging at University Hospitals Case Medical Center, USA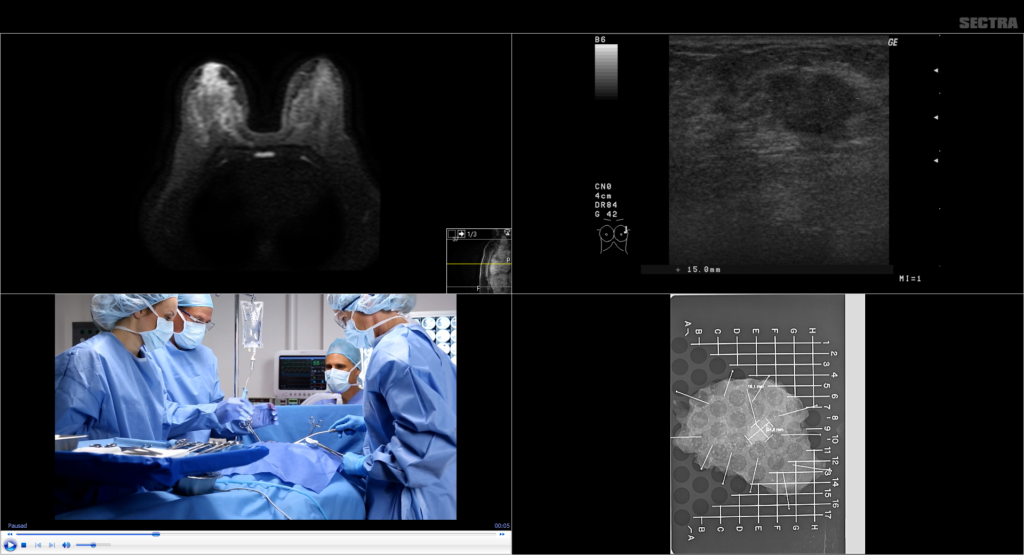 All the information you need in a single application
With the ability to store and display all breast imaging objects—including mammograms, ultrasounds, MRI, and digital breast tomosynthesis—from any vendor, Sectra Breast Imaging PACS efficiently supports your diagnostic workflow.
Reducing the need to open external applications or even switch workstations to perform the reporting is critical to achieve efficient workflows. Having everything accessible in a single solution also contributes to a patient-centered overview, further enhancing breast imaging workflows.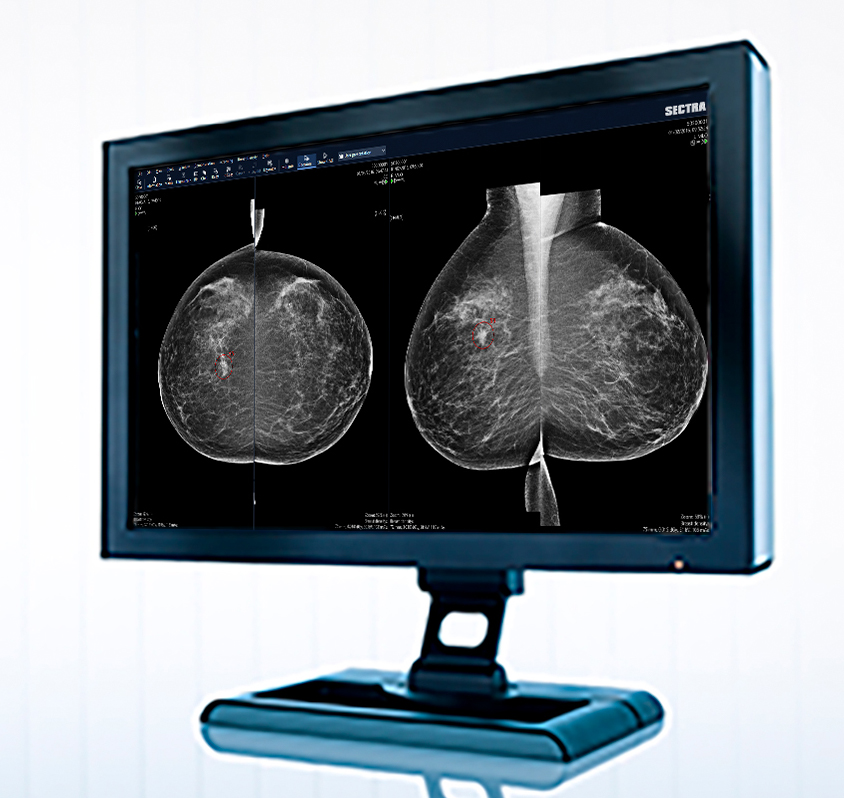 CAD, reporting, and clinical applications just a mouse click away
In Sectra's diagnostic application, you have instant access to all the tools you need for both reviewing studies and reporting—including CAD support, implant masking, and desktop integration with clinical applications for advanced breast MRI tools. Thanks to native reporting tools or tight integration with any of the major mammography reporting providers such as MagView, Penrad, MRS, Epic Radiant and Ikonopedia, the reporting is also done in the same application—close to the images.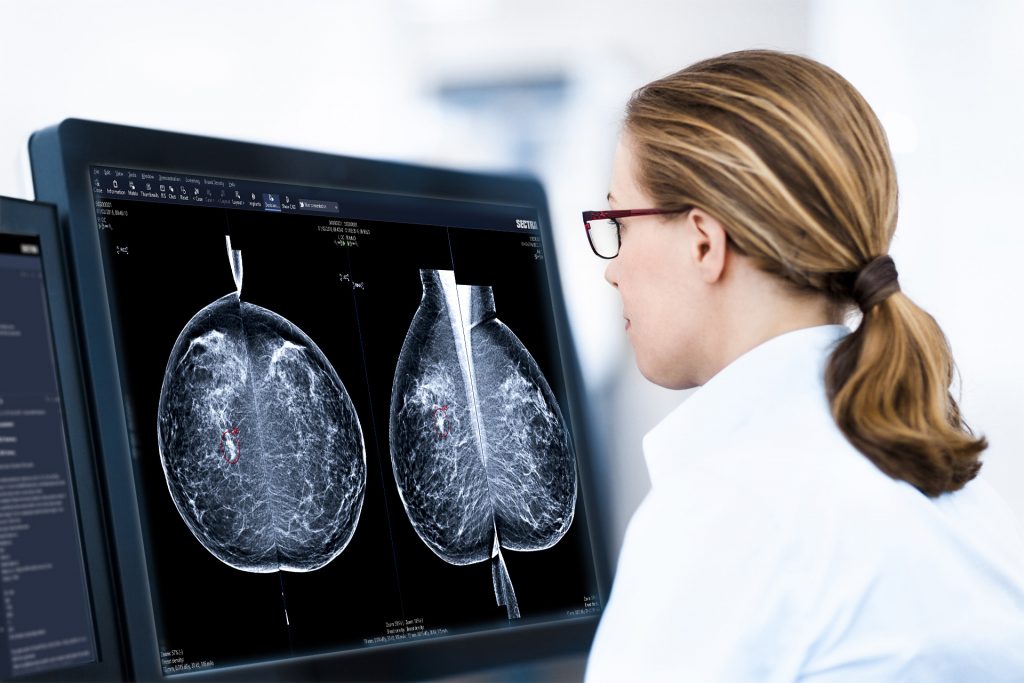 AI adoption made easy—empowering you to accomplish more
Our solution gives you access to Sectra Amplifier Marketplace where you can find a portfolio of AI applications that can be integrated into your existing breast imaging workflow.
AI applications tailored for breast imaging have the potential to create a positive impact for both you and the women you are screening. AI can improve clinical performance and quality assurance for many uses, such as breast cancer detection and accurate detection of malignant soft-tissue densities and calcifications.
Aside from the benefits of AI for image analysis, AI can optimize your workflow and improve efficiency by reducing reading time and allowing you to focus on important tasks, while AI takes care of those that are redundant.
Efficient communication and collaboration
Sectra supports your need to communicate and collaborate in various ways. Examples include built-in chat or Skype for Business integration, tools for peer review and resident workflows, as well as sharing and collaboration with users outside your own organization.
The built-in chat functionality is an efficient communication tool between the radiologist and technologist—both in the screening and symptomatic workflow.
Sectra's breast imaging solution also gives you tools for scheduling, preparing, and presenting at multidisciplinary tumor boards.
Standard compliance
Based on open architecture, Sectra Breast Imaging PACS can integrate with many IT support systems such as RIS and EMR systems, dictation systems, and systems for monitoring and management.
Sectra PACS and RIS support established standards within healthcare, such as DICOM and HL7. It also conforms to the IHE MAMMO and the IHE DBT profile.  In addition, Sectra's imaging solution supports storage of any DICOM SOP class.
Tools tailored to the screening workflow
With the dedicated toolset for mammography screening, you can achieve an ultra-efficient workflow—no matter whether you prefer single reading, double reading, or true blind double reading. Our newly re-designed keypad supports your efficiency with its ergonomic design and fully customizable keys. The grouping and texture of the keys on our new keypad allows you to focus on the images, and the extra-wide scrollbar is carefully designed for precise and smooth stack viewing. The combination of the keypad and our diagnostic application fully optimizes the reading workflow.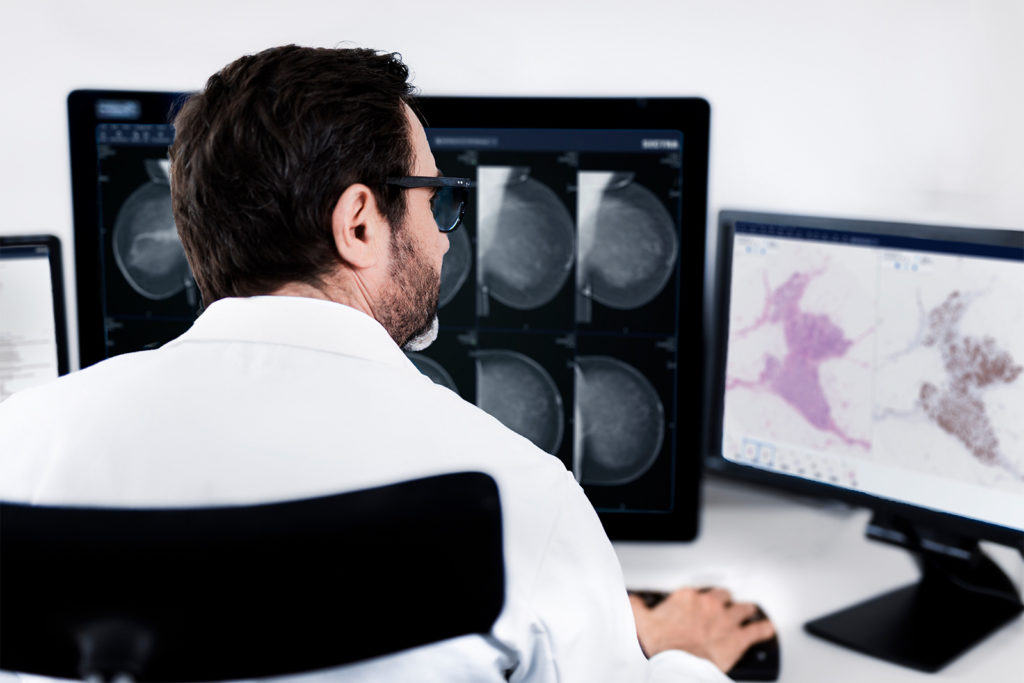 Digital pathology-ready
Sectra's diagnostic application for breast imaging also enables access to digital pathology images. Having not only all radiology related data, but also the digital pathology images available within the same platform and viewer, provides a broader patient overview and allows for efficient correlation of findings between radiology and pathology. It also allows radiologists and pathologists to efficiently work side by side in the multidisciplinary tumour boards.
A rock-solid solution
Sectra's breast imaging offering is designed for high-production environments where system availability is key. We have a proven track record of maintaining extremely high system uptimes during both regular operations, upgrades, as well as through disasters.
More features and benefits
Storage and display of DBT projection images (DICOM Supplement 165).
Both 2D CAD and DBT CAD.
Sectra's roaming user profiles allows an individual's user settings to follow the user wherever needed.
Thanks to its modular approach and strong adherence to standards, the diagnostic application is well-suited for a deconstructed approach.
Easy administration thanks to automated upgrades, central administration, and floating licenses.
Sectra teaching files makes it easy to tag interesting cases and to export images to e.g. PowerPoint.
Advanced tools for planning, hosting and follow-up on tumor board meetings.
Business analytics for follow-up on statistics.
Examples of supported breast imaging workflows
Examples of supported breast imaging workflows
Population-based screening invitation and rescheduling
The Sectra Breast RIS* supports highly efficient screening invitations for high-volume population-based screening programs.
The advanced batch scheduling allows for thousands of appointment letters to be sent out automatically, and is supplemented by a highly efficient call-in rescheduling workflow.
With the web rescheduling service, the patient can easily reschedule to a different appointment time without having to call in. The friendly SMS reminders and the re-invitation functionality also work as effective tools to increase screening attendance rates.
Appointments are automatically verified and scheduled in Sectra RIS and incorporated into the RIS/PACS workflow, reducing the need for radiology resources to schedule examinations.
* Sectra RIS is only available in Scandinavia, the UK and Benelux. In other markets, Sectra PACS integrates with other RIS/EMR solutions to support the same workflow.
Supporting your examination workflow
Sectra PACS and Sectra Breast RIS* support fast and efficient workflows for registration and examination.
Upon arrival, the patient can register her presence using the touch-based self-check in kiosk, which greatly reduces the need for a staffed reception.
The technologist's client provides direct access to all relevant patient information, including dose, medication, and prior imaging. When starting a screening examination, a screening questionnaire lets the technologist register information that is important for the radiologist to know.
The chat functionality makes it very convenient for the technologist and radiologist to communicate about necessary repeat views or work-ups.
* Sectra RIS is only available in Scandinavia, the UK and Benelux. In other markets, Sectra PACS integrates with other RIS/EMR solutions to support the same workflow.
A comprehensive solution
The diagnostic application comes with a dedicated and configurable keypad from which the most commonly used image operations are available. This greatly improves the reading workflow for the radiologist—both for screening and diagnostic workflows.
The diagnostic application has standard interfaces for tight integration with your existing mammo tracking/reporting solution such as MagView, MRS, Penrad, Epic, or Sectra RIS.
With Sectra RIS* a one-click reporting workflow can be accomplished where a case being set as negative automatically triggers a lay letter to be sent out. This makes a huge difference for a high-volume screening program.
The application also has native support for presenting digital pathology images alongside all other information needed in the integrated diagnostics workflows. A full patient overview, including images, documents, multimedia, and digital pathology from one single workspace, paves the way for huge efficiency gains.
* Sectra RIS is only available in Scandinavia, the UK and Benelux. In other markets, Sectra PACS integrates with other RIS/EMR solutions to support the same workflow.
Driving efficient workflows
The system is highly configurable and statuses can be defined to adapt to any local workflow. This is very helpful for excluding exams that are not yet ready for review from the radiologist's worklist, e.g. when waiting for prior images or during work-ups.
The workflow can either be driven from the diagnostic application or from the reporting application—again adapting to your current situation.
The system also allows for driving workflow based on breast density grade.
Helping better communication and collaboration
Sectra supports your need to communicate and collaborate in many ways. Examples include online and offline messaging, built-in chat and Skype for Business integration, peer review and resident workflows, as well as sharing solutions for collaboration with users outside your own organization.
Easy access to actionable results
Sectra's result distribution module allows referring physicians to easily access the imaging results.
Images can be displayed as thumbnails alongside the report, and are launched in the full diagnostic viewer, the lightweight Sectra UniView, or from the EMR.
The integrated diagnostics solution, including digital pathology images and results, provides a base for efficient concordance workflows between radiology and pathology, and thus more actionable results.
Operational excellence
Sectra can help you improve and follow up on your clinical quality by supporting many different processes—big and small.
With the integrated teaching file workflow, you can easily tag and find cases for follow up or research with as little mouse mileage and extra effort as possible.
The offering also allows quality control of images and reject analysis, which, together with the teaching files, can be used to help you comply with the FDA EQUIP initiative.
Sectra's built-in peer review functionality makes feedback a natural part of the PACS image review workflow—both from a tool and process perspective.
Sectra business analytics tools can also help you identify bottlenecks and follow up on key performance indicators and the outcome of implemented changes.
Let's talk
Interested to learn more, or to schedule a demo? Don't hesitate to get in touch.
Meet us next at
27èmes journées de l'AFIB
Event
| Breast imaging
| Digital pathology
| Enterprise imaging
| Enterprise platform
| Radiology imaging
Sectra Impact 2023 User Conference
Event
| Enterprise imaging
| AI in medical imaging
| Breast imaging
| Cardiology imaging
| Digital pathology
| Enterprise platform
| Medical education
| Ophthalmology imaging
| Orthopaedics
| Radiology imaging
| Sectra One Cloud
| Share and collaborate
JFR 2023
Event
| Radiology imaging
| Breast imaging