Sectra offers a complete solution for highly efficient pre-op planning on 2D images with a wide range of tools for different body parts as well as functions for repositioning, revision surgery and calibration of images. Every surgeon can work according to their own preferred workflow, and the system supports both manual planning and the use of automatic guides for all major joints. Thanks to the simple click guide, you can select a prosthesis with a perfect fit for the patient from our extensive templates database. The result? Precision and efficient performance in your preoperative planning process.
Flexible delivery and access
Sectra's pre-op planning solutions are provided as a PACS-independent web-accessible service, or as a completely integrated add-on to Sectra PACS. For full flexibility, you can access the system from any computer in the hospital network and even from home.
Pre-operative planning in 25 seconds, quite incredible. I've watched it [Sectra's guide for osteotomies] about 10 times—it's compelling. It's fantastic to see our words converted into reality with such clarity. As you can see, I'm very impressed.
David Elson, consultant orthopaedic surgeon and chairman of the UKKOR (UK Knee Osteotomy Registry) steering committee
Efficient tools for pre-op planning
Efficient tools for pre-op planning
The guides for planning a hip arthroplasty use advanced image analysis to suggest and place a template into the plan with a few clicks. You can choose to correct for leg length discrepancy or not, and add tools to estimate offset, CCD angle and the distance from trochanter minor to the tip of the neck.
Measure all traditional dysplasia measurements with one guide.
The knee guides for short and long AP images use an automatic zoom function to speed up the planning of primary prosthesis. You can easily simulate the alignment corrections and display the mechanical and anatomical axes. When using the guide for LAT view, the automatic synchronization between the AP images can be used to ensure that the prosthesis fits the patient.
Sectra's advanced osteotomy guides save valuable time when planning a closing or opening osteotomy procedure. The guides include all important alignments parameters and assist the surgeon in planning where to place the osteotomy, and the type and size of the wedge. It is also very quick and easy to simulate multiple osteotomies.
For a primary shoulder case, the guide will place the stem and head of the prosthesis based on three anatomical landmarks. To optimize the placement, it is possible to change neck/head snap points and rotations of heads when the guide is finished.
Fracture fragments can be removed before starting templating, thus providing the user the opportunity to simulate, measure and template on ideal post-operative anatomy before entering the operating theater. Templates can be connected and manipulated as a single compound template. This simplifies planning for trauma surgery since complex arrangements of implants can easily be visualized.
The spine module provides access to fast and intuitive tools for measuring plumb lines angles, sagittal balance, vertebral slip, multiple Cobb angles, and spine labelling. It is also possible to plan corrections using osteotomies.
When planning for revision surgery, the different modular parts can be connected with each other to visualize a final plan. The guides for hip and knee can be used to plan and place the main parts, first to speed up the planning process. It is then simple to connect the extension parts. For complex cases, you can easily create more than one plan as backup if the first strategy fails.
The Sectra Calibration Unit is developed for practical everyday use and is designed specifically for use with the Sectra preoperative planning solution. The calibration markers for the hip, knee or shoulder should be positioned at the same level above the image plate as the anatomical part of the patient where the surgical procedure will be performed. The Sectra Calibration Unit consists of a stand holder with a calibration marker for the hip and a strap holder and calibration marker for extremities.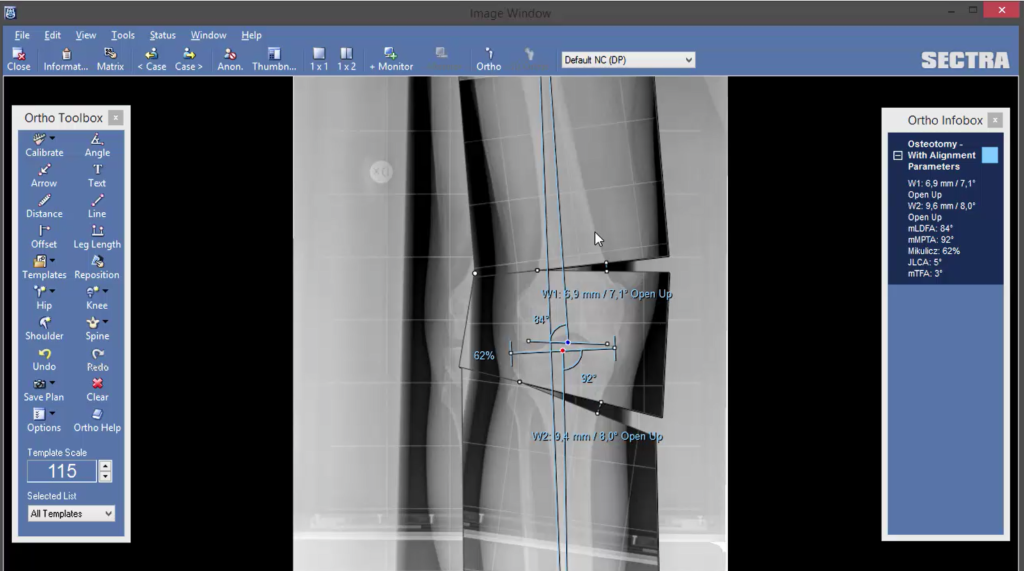 Product demo: Sectra Multiple Osteotomy
Sectra's Template Service enable you to choose from a wide variety of digital templates from different manufacturers to download and integrate into the preoperative planning tools. The service provides the latest released version of templates from selected vendors. As prosthesis products are revised, withdrawn or updated, the templates will be updated through the Template Service.
Prosthesis manufacturers that Sectra cooperates with:
Adler Ortho
Aesculap
alloPlus
Alphamed
Amplitude
AQ Implants
Arthrex
ATF Implants
Bioimpianti
Biomet
Biotechni
B-One Ortho
Ceraver
Chiropro
Consensus Orthopedics
Corin
Covision
Dedienne Sante
De Puy Synthes
DJO
Evolutis
Exactech
Falcon
FH Orthopaedics
Groupe Lepine
Global Orthopaedics
Implantcast
Implanet
Implan Tec
Integra
International Orthopaedics
JRI
KLS Martin
Kyocera
Lafitt
Lima
Link
Mako
Marquardt
Mathys
MatOrtho
Medacta
Medtronic
Merete
Microport
Nakashima
Neosteo
NextStep
Northomed
OHST
Omni
Ortho Development
Orthodynamics
Permedica
Peter-Brehm
Ranovis Surgical Technologies
Samo
SERF
Smith and Nephew
Stelkast
Stemcup
Stryker
Swemac
Symbios
Tornier
United Orthopedic Corp.
Wright
Zimmer
Templates from other manufacturers will be added when requested.
Let's talk
Interested to learn more, or to schedule a demo? Don't hesitate to get in touch.
Meet us next at
RSNA 2022
Event
| Radiology imaging
| AI in medical imaging
| Breast imaging
| Cardiology imaging
| Digital pathology
| Enterprise imaging
| Enterprise platform
| Medical education
| Orthopaedics
| Share and collaborate