Sectra PACS has again been awarded 'Best in KLAS' for highest customer satisfaction. It is the eighth consecutive year in the US, second consecutive year in Canada, and the fifth time in Europe that Sectra has won the prestigious award. Additionally, Sectra's digital pathology solution has been ranked #1 for the newly added category, Digital Pathology (non-US).
Torbjörn Kronander, President and CEO of Sectra, comments:
"To be selected by our customers as the preferred imaging vendor for digital pathology as well as for radiology across the US, Canada, and Europe is a great honor. Happy users are the ultimate proof that Sectra's staff and solutions deliver great value for our customers, contributing to improving the effectiveness of healthcare."
Sectra does very well at supporting us. They have high availability of support, and they respond very quickly. There were some potential issues with the system that we caught sooner because Sectra reached out and showed us what they could do to help us. They are proactively asking us what we need now or may need in the near future.*
US Manager, January 2021 on the KLAS website
Sectra PACS is a quality product, and when we train new physicians that come on-site, things are simple and intuitive. We don't need a lot of training. Sectra is just an ethical company that lets us know what we are getting and doesn't let us down.*
Canadian Manager, August 2020 on the KLAS website
How does Sectra compare to other industry vendors?
Sectra has swept 'Best in KLAS' for both PACS segments in the US (Large – 300K+ Studies and Small – Under 300K Studies), Global PACS (Canada), and Global PACS (Europe). In all six categories, Sectra performs well above market segment averages. The detailed results and customer comments show that Sectra customers applaud the stability and usability of Sectra PACS, the quality of implementation and training, as well as Sectra's service organization.
PACS Large – 300K+ Studies. Click to enlarge.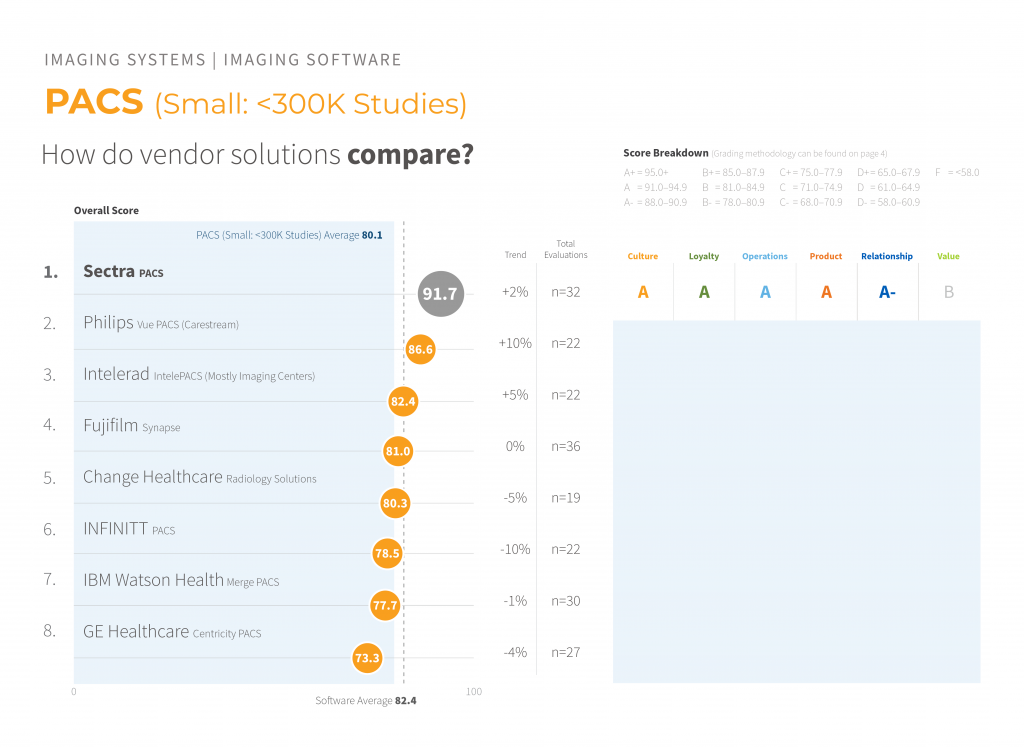 PACS Small – <300K Studies. Click to enlarge.
Global PACS (Canada). Click to enlarge.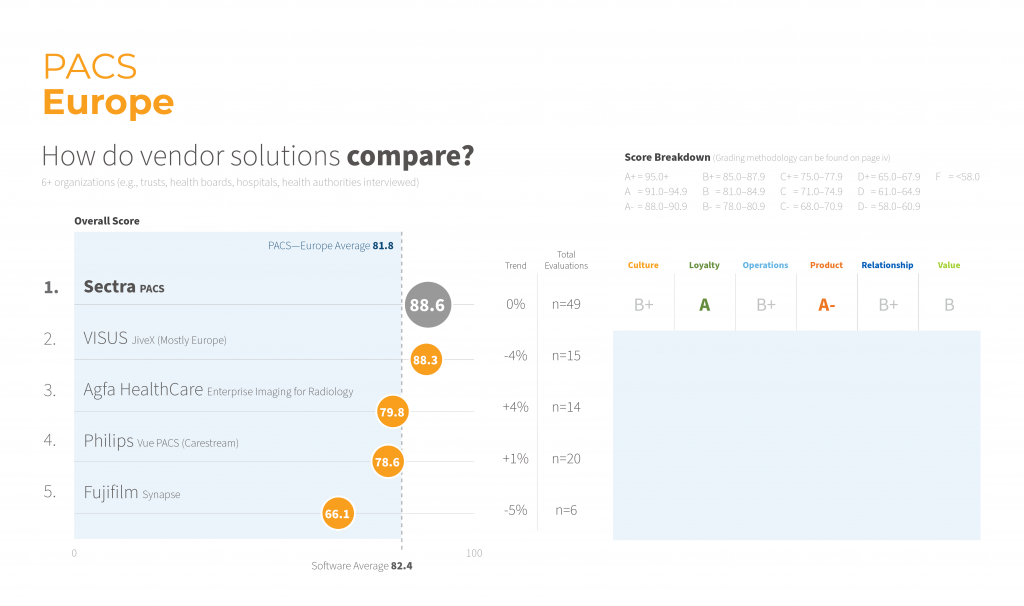 Global PACS (Europe). Click to enlarge.
Sectra understands the need for a flawless workflow in all aspects of radiology. Also, they are best in class when it comes to planning and preparing for the installation.*
European Director, June 2020 on the KLAS website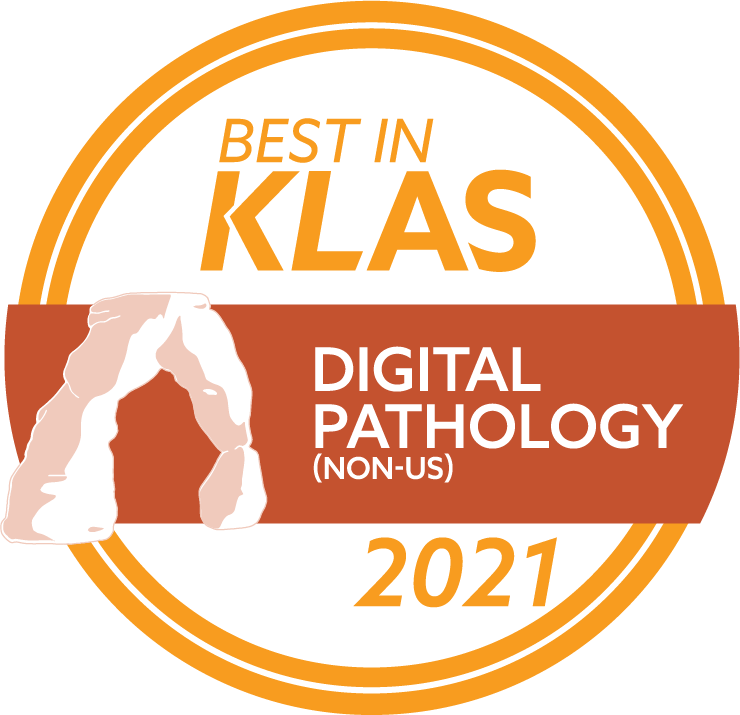 Sectra also named #1 in customer satisfaction in digital pathology
In addition to the PACS segments, Sectra also won the very first Best in KLAS award for the new category Digital Pathology (non-US). Since the launch of the Sectra Digital Pathology Solution in 2015, it has grown to support full-scale primary diagnostics at large healthcare providers worldwide. During 2020, it also received FDA approval in the US.
Sectra Digital Pathology Solution is a great product. It really suits my needs. When I started using the system, I was really impressed with how well suited the system was for the needs of the pathologist. Sectra is very service minded and easy to get in contact with. When we have suggestions on developmental things or improvements, Sectra is really easy to talk to, and they note our suggestions and take them forward. It is really exciting to work with Sectra because we really feel that they listen to us.*
European Manager, December 2020 on the KLAS website
Best in KLAS definition
Being a 'Best in KLAS' vendor means that provider organizations have found that vendor to be the leader in their market segment. Healthcare providers hold Best in KLAS vendors to the highest standard of excellence. Each year, KLAS publishes the Best in KLAS report, ranking vendors across the many technology and services market segments within healthcare. This report amplifies the voice of the provider and payer communities, who's willingness to share their feedback with KLAS fuels this report.
"Each year, thousands of healthcare professionals across the globe take the time to share their voice with KLAS. They know that sharing their perspective helps vendors to improve and helps their peers make better decisions. These conversations are a constant reminder to me of how necessary accurate, honest, and impartial reporting is in the healthcare industry. The Best in KLAS report and the awards it contains set the standard of excellence for software and services firms. Vendors who win the title of 'Best in KLAS' should celebrate and remember that providers now accept only the best from their products and services. The Best in KLAS award serves as a signal to provider and payer organizations that they should expect excellence from the winning vendors," says Adam Gale, President of KLAS.
KLAS has been providing accurate, honest, and impartial insights for the healthcare IT industry since 1996. The KLAS mission is to improve the world's healthcare by amplifying the voice of providers and payers. To learn more about KLAS and the insights they provide, visit www.KLASresearch.com.
Let's talk
Interested to learn more, or to schedule a meeting and/or demo? Don't hesitate to get in touch.
* Selected commentary collected about Sectra PACS and the Sectra Digital Pathology Solution by KLAS in 2020–2021. For a complete view, go to www.KLASresearch.com