Sectra PACS has again been awarded 'Best in KLAS' for highest customer satisfaction. It is the seventh consecutive year that Sectra has won the prestigious award in the US, and the first time in Canada.
Torbjörn Kronander, President and CEO of Sectra, comments:
"When our customers improve their quality of healthcare and become more efficient by using our solution, we have succeeded. Happy users are the ultimate proof of customer satisfaction and it's an honor to be acknowledged for it."
Sectra listens. They frequently touch base. Their product is probably the best that we have seen. Our users are highly satisfied. And Sectra is very easy to work with.*
US Director, October 2019 on the KLAS website
Sectra's service is fantastic. They are proactive. Their communication is excellent. The system is extremely user friendly. The interface is very easy to use and is very intuitive. Very little training is needed for new users.*
Canadian Manager, October 2019 on the KLAS website
How does Sectra compare to other industry vendors?
Sectra has swept 'Best in KLAS' for all US PACS segments (Large – 300K+ Studies, and Small – <300K Studies) and has also won 'Best in KLAS' Global PACS (Canada). In all six categories, Sectra performs well above market segment averages. The detailed results and customer comments show that Sectra customers applaud the stability and usability of Sectra PACS, the quality of implementation and training as well as Sectra's service organization.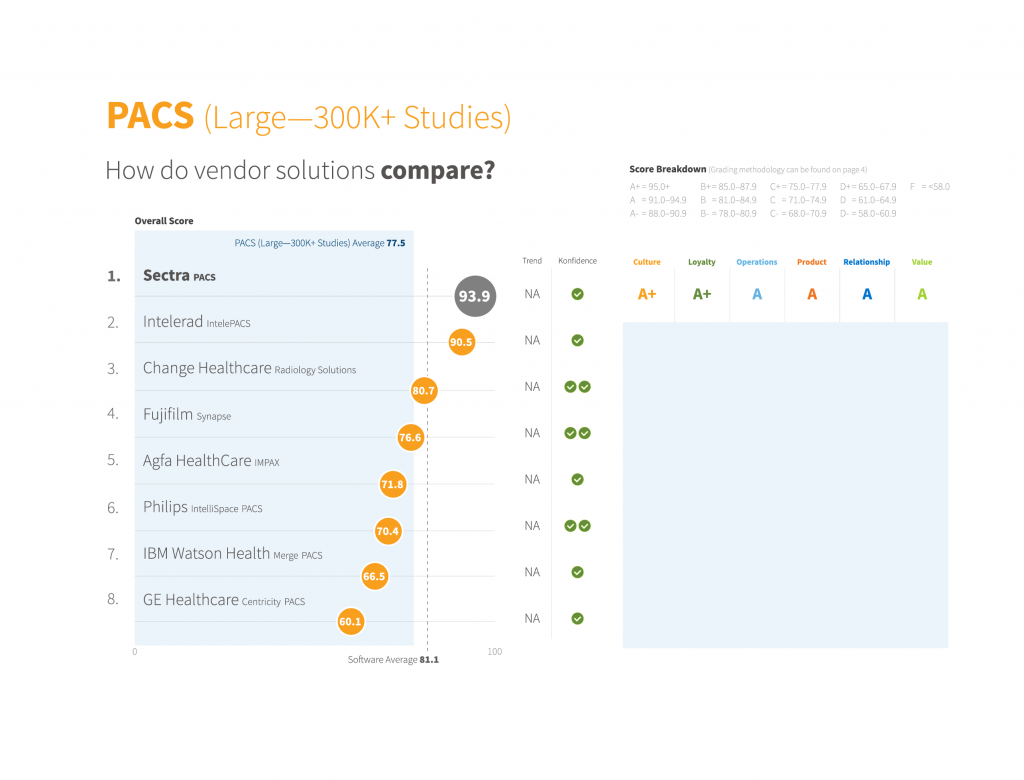 PACS Large – 300K+ Studies. Click to enlarge.
PACS Small – <300K Studies. Click to enlarge.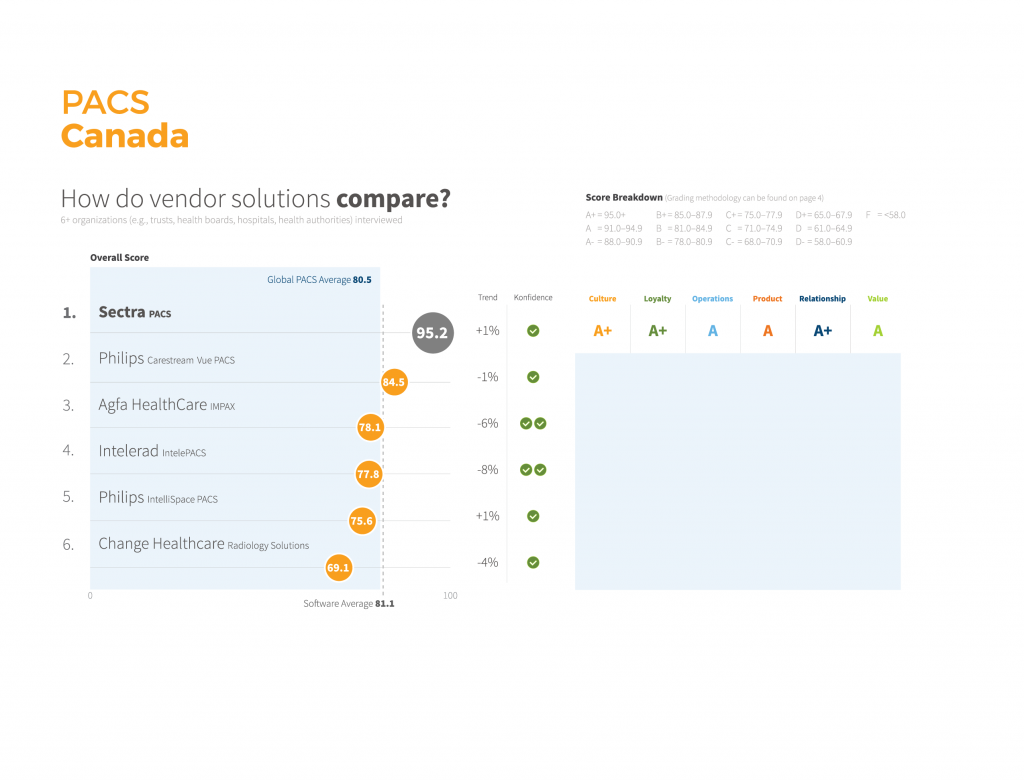 Global PACS (Canada). Click to enlarge.
Best in KLAS definition
2020 Best in KLAS—a recognition of outstanding efforts to help healthcare organizations in their quest to deliver quality patient care. The Best in KLAS designation is awarded only in those software and services market segments that have the broadest operational and clinical impact on healthcare organizations. Each year, KLAS publishes the Best in KLAS report. This report ranks healthcare IT software and services vendors across numerous market segments.
"Providers and payers demand better performance, usability, and interoperability from their vendor partners every year. Best in KLAS winners set the standard of excellence in their market segment. Earning a Best in KLAS award should both excite and humble the recipients. It serves as a signal to providers that they should expect only the best from the winning vendors," says Adam Gale, President of KLAS.
KLAS has been providing accurate, honest, and impartial insights for the healthcare IT industry since 1996. The KLAS mission is to improve the world's healthcare by amplifying the voice of providers and payers. To learn more about KLAS and the insights they provide, visit www.KLASresearch.com.
Let's talk
Interested to learn more, or to schedule a demo? Don't hesitate to get in touch.
* Selected commentary collected about Sectra PACS by KLAS in 2019. For a complete view, go to www.KLASresearch.com