Sectra Image Exchange Portal (IEP) lets healthcare providers, patients, and others efficiently and securely exchange and access imaging information. The cloud-based and vendor-neutral solution lets you share without the need for CDs, USB drives, or paper copies—helping you lower costs, avoid unnecessary exams, and improve patient data security. It also supports competence and resource exchange, making it possible for two parties to efficiently collaborate around workload balancing or second opinion workflows for instance. Put simply, Sectra IEP helps healthcare share more knowledge and information, and makes sure that the relevant patient information is available whenever and wherever needed.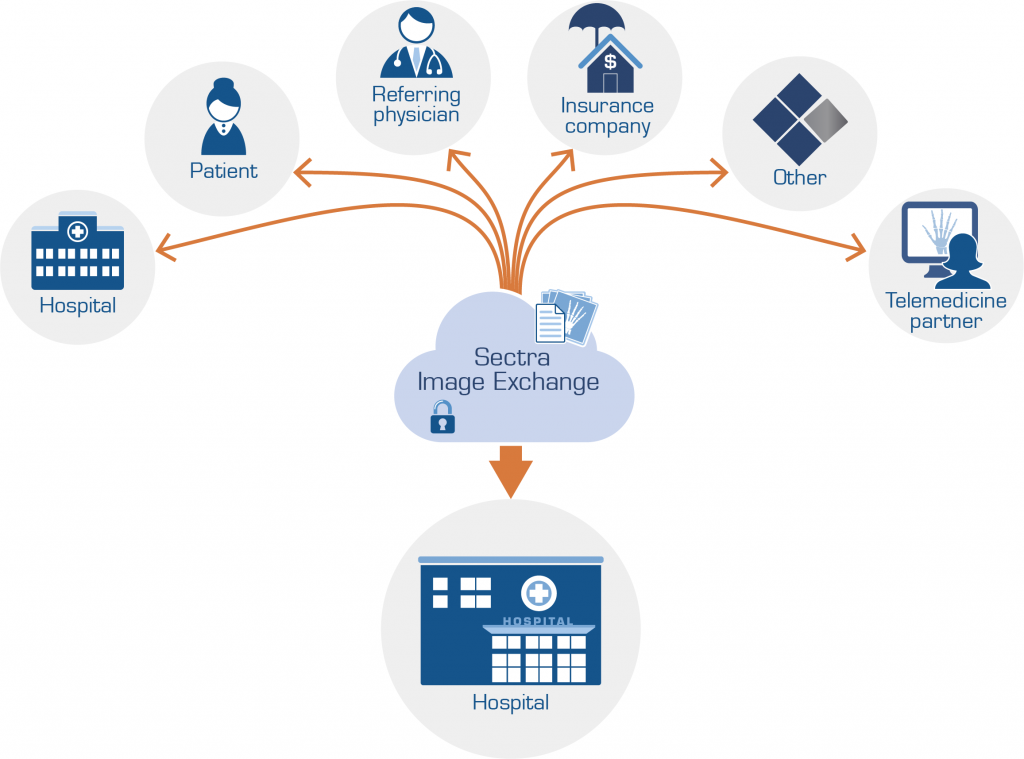 I think the biggest bang for our buck on the Sectra IEP has really been the improved patient care, the lack of repeat studies and the safety of not re-radiating patients.
Executive director of imaging services at John Muir Health, USA
This is the best route forward for a national network. It is here, it is now, it is live and it works. I would recommend any trust to join in and start benefitting from this technology.
PACS manager at University Hospitals Bristol NHS Foundation Trust., UK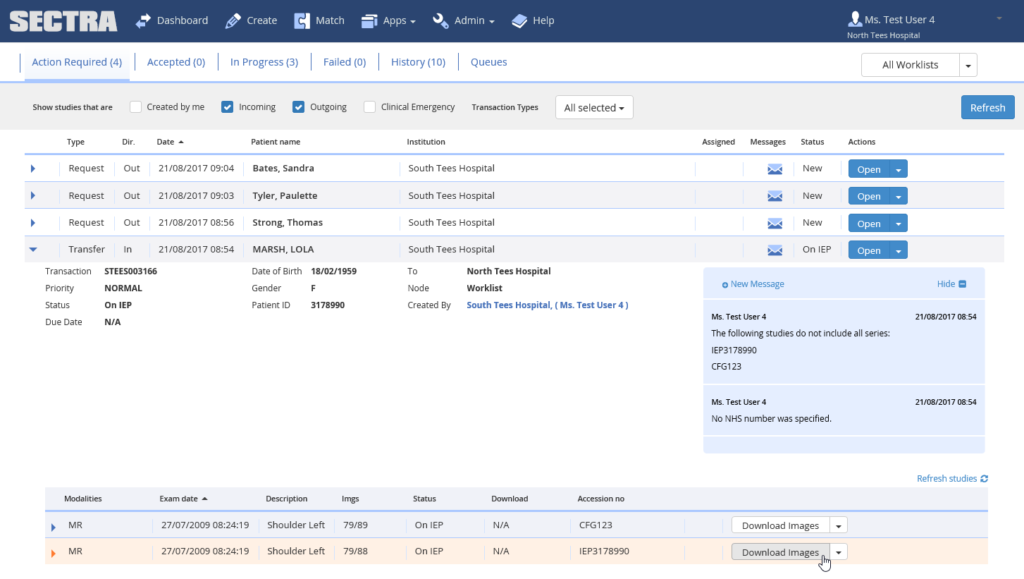 Exchange with other providers to lower costs and improve quality
Sectra IEP is an efficient solution to manage all your image sharing needs. You get rid of CDs, USB drives, phone/fax, or any point-to-point connections you and your exchange partners use today.
It lets you increase your information exchange with others without adding a lot of work or cost. This, in turn, leads to better diagnostic quality since physicians have access to a more complete patient history in the diagnostic process, including multidisciplinary team meetings for instance. Access to historical exams for comparison makes it easier to follow up treatment, and may therefore improve the patient outcomes.
The increase in exchange of a patient's images also leads to a significant reduction in unnecessary exams, since the clinically relevant information is often already available in prior images. Reducing unnecessary exams saves both time and money, and lowers waiting times and suffering for the patient. Within radiology, it also means a lower radiation dose.
Engage with and empower your patients and referring physicians
With Sectra IEP, the information can be exchanged securely with anyone, including patients, referring physicians, insurance companies, and other stakeholders.
You can empower the referring physicians and patients with the images either by using a secure email-based process or through integration with EMRs and patient portals. For the patients, this can lead to shorter waiting times, and—by having access to their own information—increased involvement in their own care.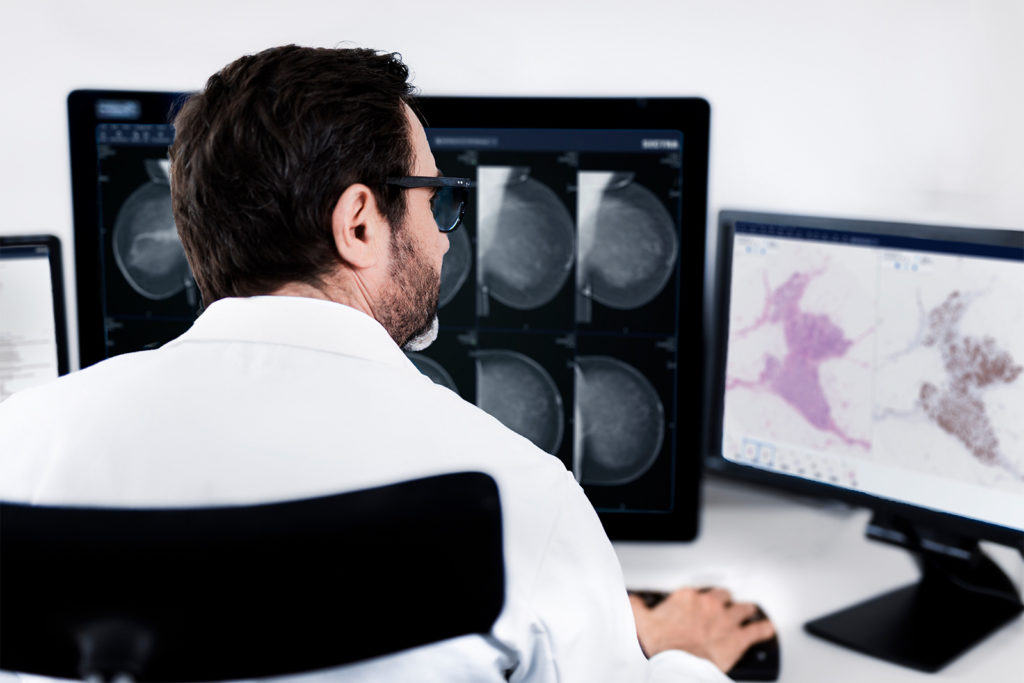 Enterprise-wide image exchange of any image
Sectra IEP lets you efficiently exchange various types of imaging information within the same platform. Whether it is radiology, cardiology, or pathology images—or something else—you can securely upload, view, and download information using Sectra IEP. The unique capability to handle many different images removes the need for separate solutions for each department—and is a key component in a successful enterprise image management strategy.
Collaborate with others around capacity and competence
With increased sub-specialization and capacity shortages, the need for telemedicine, remote expert consultations, and second opinion workflows is growing rapidly. This means solutions need to empower all collaborating parties with the right information at the right time.
Sectra IEP has dedicated telemedicine workflows to efficiently support access for remote radiologists and pathologists to cover night shifts, gaps in certain specialist competencies, or during temporary vacancies. It lets you securely exchange and access the case and all relevant patient information from anywhere, provides transparency to all parties involved, and gives you the statistics you need for financial and process follow-up and optimization. The diagnosing physician can either review the images in the cloud-based environment using Sectra's award-winning diagnostic application, or in a local system through standards-based integration.
In addition to the Sectra IEP, and in select markets, Sectra also provides other products within the area of sharing or collaborating with others around patient images: Sectra MEI and Sectra RxEye. For more information about these products, please contact your local representative.
Trust that the information is kept safe
Many existing means of exchange—including CDs, USBs, and unencrypted and unaudited connections—involve great risk of security breaches and patient integrity violations. However, Sectra IEP gives you a complete audit trail, strong authentication, and comprehensive data encryption. The solution is delivered using Sectra HealthCloud, which has been specifically developed to handle sensitive healthcare data, and is frequently security-tested by external parties. Using this solution, you are confident that the data is safe and that you comply with legal patient data sharing requirements (HIPAA, PDL, etc.).
Easy onboarding
More than 500 institutions and tens of thousands of users actively use Sectra IEP, exchanging over 100 million images every month.
Becoming part of the Sectra IEP network is easy. The solution offers a usage-based business model, and access is provided through a web-based portal. New users can easily sign up, and for healthcare providers, IEP can be used regardless of the vendor of local systems.
The cloud-based solution requires no local hardware and is easy to connect to. As a web-based solution, the exchange of information is easy—all the way from the web-based viewing and file upload to the fully automated and intelligent image routing. Integration is done through standard interfaces, such as DICOM, HL7 and XDS.
Large hospital, Copenhagen, Denmark
Telepathology an effective solution for a large Danish hospital
Case
| Digital pathology
| Share and collaborate
Norrland's University Hospital, Umeå, Sweden
Modern telemedicine solution enables cross-border collaboration
Case
| Share and collaborate
Let's talk
Interested to learn more, or to schedule a demo? Don't hesitate to get in touch.
Meet us next at
PACS congres
Event
| Enterprise imaging
| Enterprise platform
| Share and collaborate
Digital Health Rewired 2024
Event
| Enterprise imaging
| Digital pathology
| Enterprise platform
| Radiology imaging
| Sectra One Cloud