Sharing or collaborating with others around patient images doesn't have to be time-consuming and costly. In fact, with the right solution for information exchange, it is easy and simple—whether you need to share information with someone on a single occasion, or want to collaborate more tightly around resources and patients. You can efficiently and securely share and collaborate around all types of medical images, including digital pathology cases—with no more need to produce and send CDs, USB drives, or paper copies.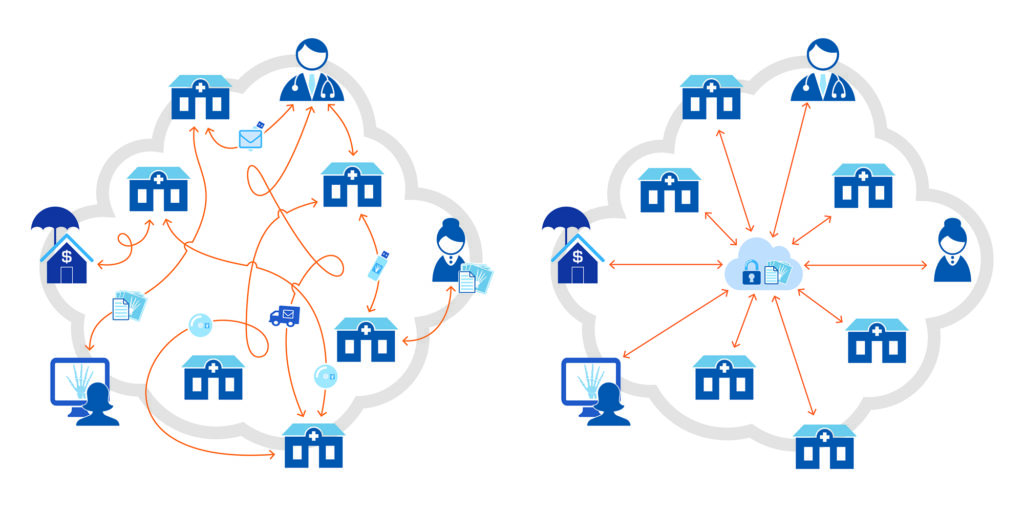 Selection of common use cases
Selection of common use cases
Ensure all images follow the patient
Nowadays, many patients visit multiple departments and several different care providers during their care processes. This means that the patient history becomes scattered in multiple different systems. For the diagnostic process—and to avoid unnecessary reimaging of the patient—it is essential that you can swiftly and securely access historical medical information, wherever it was initially created.
Efficiently collect the information in your local system, or access and view it online from anywhere—ideal when the patient has been transferred, or for multidisciplinary team meetings with participants from different and geographically spread organizations.
Optimize your resource and competence management
Make sure that the right competence is always at hand—regardless of where the patient is. Get access to or provide remote resources and specialist competence to make the best use of resources in departments such as radiology, breast imaging, cardiology, and pathology. Efficiently send cases to a telemedicine provider to shorten waiting times and maintain diagnostic quality despite seasonal or daily variations in demand.
Digital sharing in pathology—key to better cancer care
One of the main benefits of digitizing pathology is the ability to share digital images, rather than sending physical slides. This brings potential savings in reduced treatment errors, logistics, and administration. And with access to specialized experts for efficient external readings and second opinions, you can also shorten waiting times for patients—helping you meet patient demand and regulatory enforcements.
Norrland's University Hospital, Umeå, Sweden
Modern telemedicine solution enables cross-border collaboration
Case
| Share and collaborate
Let's talk
Interested to learn more, or to schedule a demo? Don't hesitate to get in touch.
Meet us next at
27èmes journées de l'AFIB
Event
| Breast imaging
| Digital pathology
| Enterprise imaging
| Enterprise platform
| Radiology imaging
Sectra Impact 2023 User Conference
Event
| Enterprise imaging
| AI in medical imaging
| Breast imaging
| Cardiology imaging
| Digital pathology
| Enterprise platform
| Medical education
| Ophthalmology imaging
| Orthopaedics
| Radiology imaging
| Sectra One Cloud
| Share and collaborate