Sectra Enterprise Imaging for Cardiology lets you perform efficient reading of the most common cardiovascular procedures from a single workstation. Automated clinical tools and advanced analysis tools are seamlessly integrated into the workflow, for instance automated quantifications of volume, strain, and ejection fraction. Any measurements you perform during the review can be directly imported to worksheets and reports, avoiding the need for manual data entry. In addition, measurements within echo, vascular and interventional procedures can be performed offline. The broad and growing portfolio of advanced "best of breed" clinical tools, combined with strong integration capabilities, help you consolidate all cardiology imaging—increasing review efficiency, improving cross-disciplinary collaboration, and reducing maintenance and operating costs.
Sectra's solution increased our efficiency in the Cardiovascular Interventional Lab by 10% over one night.
Interventional cardiologist at a Norwegian hospital
The ability to consolidate the cardiac ultrasound with radiology PACS saved us a lot of time, efficiency and cost.
ProMedica, USA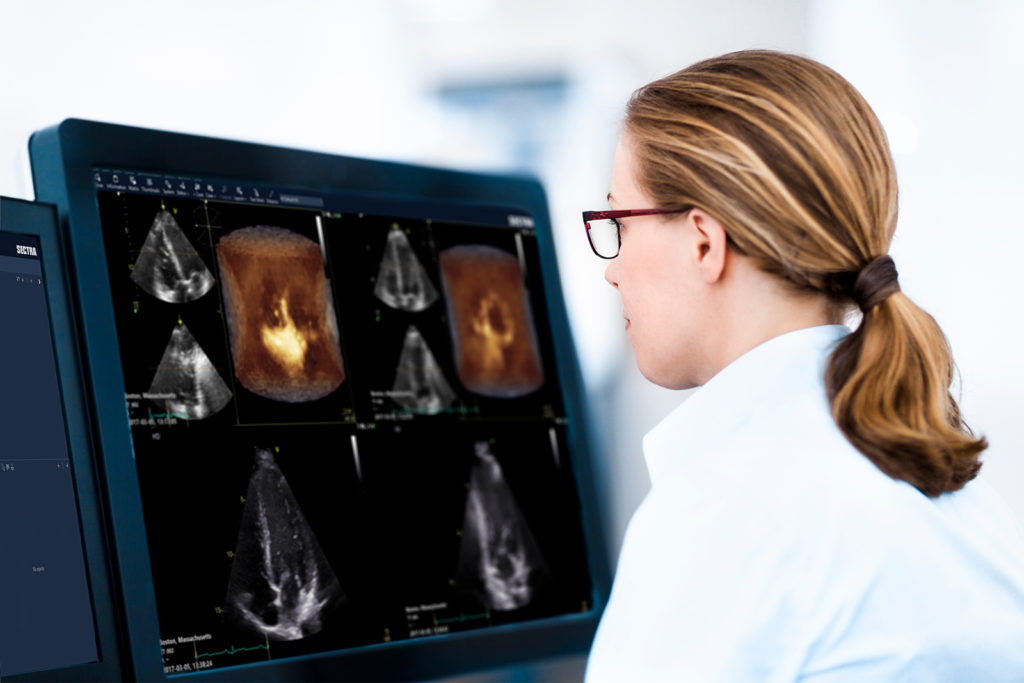 Increased diagnostic confidence and efficiency
Sectra lets you consolidate cardiovascular procedures from different modalities in one archive and one viewing solution. With access to a patient's various procedures from a single workstation, in combination with a broad and growing portfolio of tightly integrated clinical and analytical tools, Sectra's solution reduces the need to move between different solutions. Not only simplifying the clinical workflow, with a unified user experience and reduced mouse mileage, but also increasing efficiency in the IT department.
The automated clinical tools let you further increase consistency in diagnostics, at the same time as the workflow-integrated tools and the ability to import measurements to reports save you valuable time. The solution supports the following cardiovascular procedures:
Echocardiography
Cardiac catheterization
Cardiac nuclear medicine
Cardiac MR
Cardiac CT
ECG management
However, the clinical application support is continuously growing.
Vendor-neutrality and seamless integration with healthcare IT solutions
Sectra's vendor-neutral solution can easily be connected to most modalities, letting you add the modalities of your choice without increasing the IT complexity. Not only can you store everything in one place and view the images in advanced applications, but also different structured reporting objects are harmonized to one single output for the CVIS or any other reporting tool.
The solution also integrates seamlessly with EMRs, such as Epic Cupid, as well as other imaging systems. This lets you reach complete patient information and history from a single point of access. It also lets you easily share images for external review as well as workload balancing.
One platform for improved cross-departmental collaboration
Built on the same technical infrastructure and platform as our solutions for other image-intense departments, Sectra's cardiology solution is a key component in a complete enterprise imaging strategy. You can manage cardiovascular information in the vendor-neutral archive, Sectra VNA, together with imaging and multimedia from radiology, mammography, pathology, and other disciplines. Removing departmental silos with Sectra VNA helps towards more efficient IT administration, and gives a foundation for improved multidisciplinary collaboration.
More features and benefits
The right toolset to perform interventional cardiovascular quantifications, such as QCA, QLVA, DSA, FFR, and many others—from one point of access.
Tightly integrated "best of breed" advanced applications for non-invasive imaging to perform advanced measurements, such as 3D/4D as well as auto strain and volume calculations within ultrasound.
Speed up reporting with the smart harmonization ability of different DICOM SRs, and allow the measurements to auto-populate your report—whether it is facilitated in the EMR or CVIS.
Store and view your ECGs in the Sectra solution and collect all relevant patient information in one place.
Easily prepare and administrate multidisciplinary team meetings, thanks to having everything in one place and dedicated tools for "x-ology" discussions.
Select customer references
Riverside University Health System Medical Center, CA, USA
New cardiac cath lab embraces enterprise imaging
Case
| Cardiology imaging
| Enterprise imaging
ProMedica, US and Quinte Health Care, Canada, USA
Seeking synergy: Bringing cardiology into your enterprise imaging strategy
Case
| Cardiology imaging
| Enterprise imaging
| Radiology imaging
CoxHealth, Missouri, USA
VNAbling PACS unites cardiology and radiology to the benefit of many
Case
| Enterprise platform
| Cardiology imaging
| Enterprise imaging
| Radiology imaging
Let's talk
Interested to learn more, or to schedule a demo? Don't hesitate to get in touch.
Meet us next at
RSNA 2023
Event
| Radiology imaging
| AI in medical imaging
| Breast imaging
| Cardiology imaging
| Digital pathology
| Enterprise imaging
| Enterprise platform
| Medical education
| Orthopaedics
| Share and collaborate
PACS congres
Event
| Enterprise imaging
| Enterprise platform
| Share and collaborate
Sectra User Meeting – Sydney
Event
| Enterprise imaging
| AI in medical imaging
| Cardiology imaging
| Digital pathology
| Enterprise platform
| Radiology imaging
| Sectra One Cloud
| Share and collaborate