The Sectra Table is a large, immersive and interactive touch device that provides optimal touch interaction and visualization to further enhance the experience and performance of Sectra Education Portal. It features a large 65" monitor with an electrical tilt function and a 4K capacitive touchscreen, vastly improving the sense of interaction with the visualized data. QLed technology turns light into breathtaking color with extreme depth and bold contrast.
Sectra provides well-adapted technical solutions that keep you up-to-date with the developments in both medical care and education.
Elin Schoultz, MD and PhD student, Sahlgrenska Academy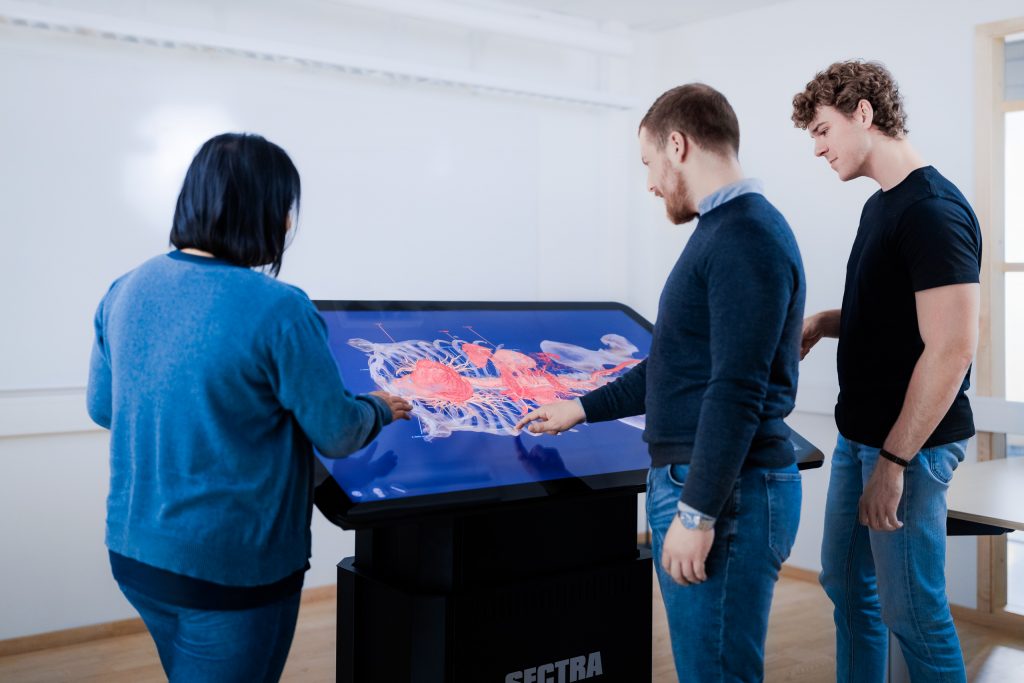 Explore in minute detail
The Sectra Table allows you to easily explore and examine virtual representations of real bodies in minute detail. 3D images are quickly rendered from data provided by CT and MR scans. Interacting with the 3D volumes through a touch interface is like using a smartphone. By simply touching the screen, you can interact with the image intuitively. You can swipe, scroll, zoom, rotate and navigate inside the images as well as remove layers of skin and muscle and dissect the body with a virtual knife.
Collaboration made easy
A combination of the highly relevant medical education cases in our platform and the versatility of the Sectra Table help students maximize learning as well as improve their critical thinking and analytical skills. It supports group discussions and facilitates collaborative team-based learning. The split-screen possibilities allow four people to interact with and edit images simultaneously.
Sahlgrenska Academy, Gothenburg, Sweden
How digitized histopathology training can offer advantages over microscopes
Case
| Medical education
| Digital pathology
Let's talk
Interested to learn more, or to schedule a demo? Don't hesitate to get in touch.
Meet us next at
RSNA 2023
Event
| Radiology imaging
| AI in medical imaging
| Breast imaging
| Cardiology imaging
| Digital pathology
| Enterprise imaging
| Enterprise platform
| Medical education
| Orthopaedics
| Share and collaborate