Sahlgrenska Academy, the Faculty of Medicine at the University of Gothenburg, offers medical education and world-leading research. Practical training is of the utmost importance to the academy, which collaborates closely with Sahlgrenska University Hospital.
It was lucky that the web-based solution was developed. I don't know what we would've done otherwise.
Elin Schoultz, Medical Doctor and anatomy teacher Sahlgrenska Academy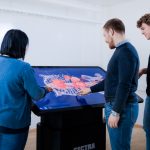 Sahlgrenska Academy was among the first universities in Sweden to use the Sectra Table and as such was also among the first to present students with real radiology cases early in their anatomy training. Apart from the wow factor of introducing students to the 42'' touch screens, the aim was to improve students' learning and enhance their understanding of clinical radiology before entering the actual clinical context. Elin Schoultz, who teaches anatomy, has been using the Sectra Table for many years and appreciates the fact that the images provided are real-life representations taken from real patient cases. Today, the academy uses Sectra Education Portal and two Sectra terminals in its anatomy, pathology, and histology courses.
Learning from real clinical practice
By taking full advantage of Sectra's advanced visualization tools and interacting with real medical images from an early stage in their education, students gain an enhanced understanding of the body's anatomy and functions. Schoultz believes this is an innovative approach that inspires students more than simply looking at images in a book. Sectra's multidisciplinary library is made up of real cases, which ensures the quality and relevance of students' medical education. Sahlgrenska Academy focuses on each subject separately to gradually build on the students' level of knowledge. They start with each organ system and work their way from healthy to more unusual variations. The Sectra Table provides an important complement to traditional dissection in the laboratory, and is also used during residency training for case-based learning purposes. The opportunity to interact with both 2D and 3D images allows students to learn in a realistic environment.
Cloud-based education for tomorrow's doctors
Professor Anne Uv is responsible for teaching histology, a subject that traditionally only included classroom teaching and laboratory sessions. At Sahlgrenska Academy, they have started to digitize parts of the teaching process and through Sectra Education Portal they can now offer students distance learning opportunities—an important complement to classroom teaching where students can study imported digitized slides from their own computers. In just a few clicks, educators can import their own slides, use annotations to prepare their lessons, and share these high-resolution digital slides on multiple devices simultaneously. The students also find the portal straightforward to use; it reacts quickly and they can easily go from macro to micro.
Sectra provides well-adapted technical solutions that keep you up-to-date with the developments in both medical care and education.
Elin Schoultz, Medical Doctor and anatomy teacher Sahlgrenska Academy
Client-centric solutions
Sectra has a long tradition of providing clients with effective and state-of-the-art solutions. Exposing students to the relevant tools early on means they will be better prepared for clinical reality and be able to start contributing faster. According to Schoultz, the communication between Sectra and Sahlgrenska Academy has gone from strength to strength, and Sectra has gone above and beyond to meet the academy's needs. The optimal user experience is achieved via a Sectra terminal, and Sectra Education Portal has made medical education more flexible than before. Due to the large number of students at the academy, it is difficult for everyone to get regular access to the Sectra Tables. Therefore, Sectra Education Portal is very important to them. The cloud solution is mainly used for self-directed learning. It has made it easier to promote independence among students and to quality-assure the academy's remote teaching, knowing that the educators can effortlessly reach all students with the same information.
Featured products & services
Product
| Medical education
Product
| Medical education