Our strategy is simple: through our marketplace and open approach to application integration, we make it easy to adopt AI to create efficient workflows. Our marketplace makes AI accessible from one place, making it easy to use and implement in your diagnostic workflows.
The Sectra Amplifier Service is the single point of coordination for contracting, purchasing, and servicing of AI applications, validated and verified for use at point of care. It provides you with a marketplace to browse and buy applications and a cloud-based platform to host them. Our vendor-neutral interface simplifies adoption and provides a unified user experience for radiology imaging, breast imaging, and digital pathology.
"As a hospital, you want to avoid complex and lengthy adoption processes with every new AI vendor. Which is why I see the added value of a platform where you can download and seamlessly integrate AI applications into the workflow. This is also the idea behind the Sectra Amplifier Platform. This way, AI applications will become accessible to more hospitals in the future and will offer more value for clinical practice."
Radiologist, Bravis Hospital, The Netherlands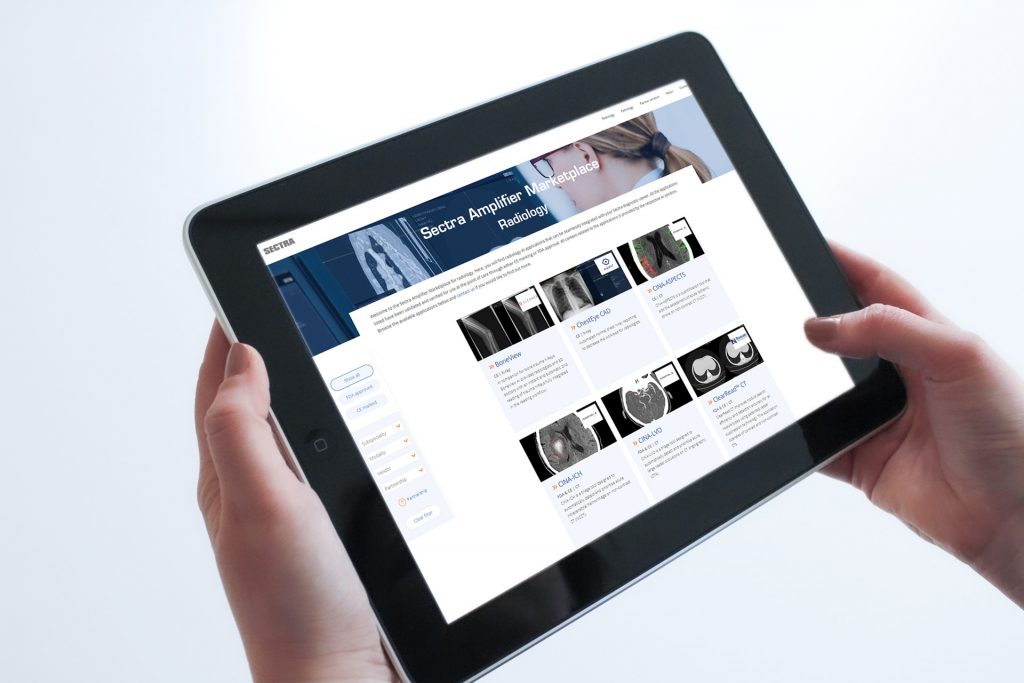 Access to best-of-breed AI applications
The wide range of available applications in the Sectra Amplifier Marketplace assists you in diagnostics—with detection, quantification, and classification—and in reporting and workflow orchestration—with triage, examination, and resource allocation. Multiple applications per use case gives you freedom of choice, helping you avoid vendor lock-in while having access to the latest technology.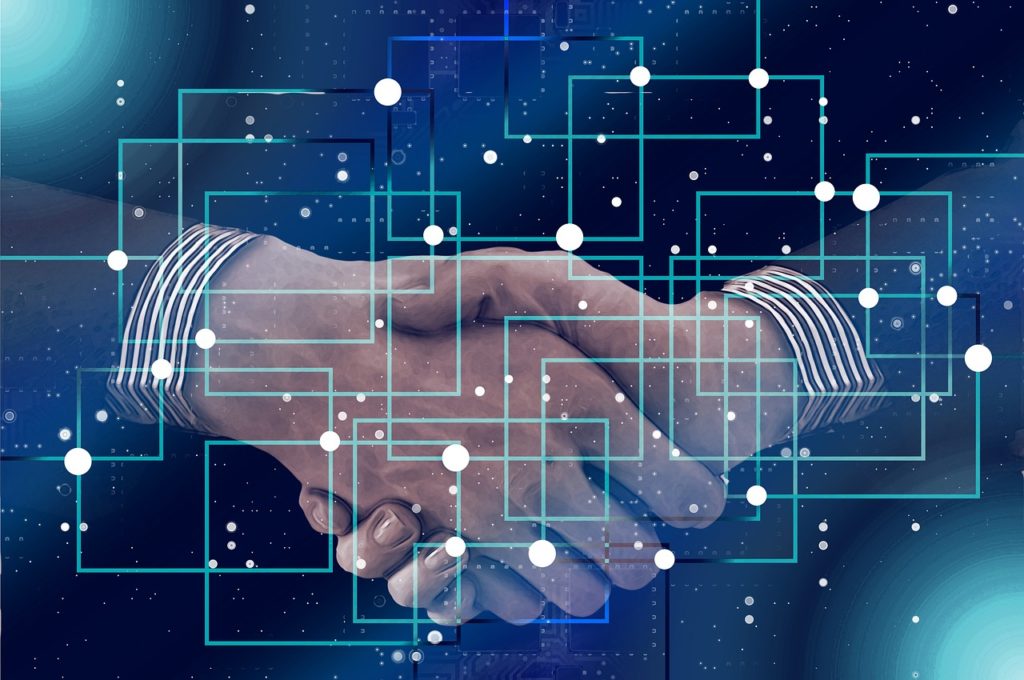 We validate all partners in the marketplace
For each partner that signs up for the Sectra Amplifier Marketplace, we perform due diligence to ensure you have access to reliable application vendors that fulfil a set of essential requirements:
CE marking or FDA approval
Integrate with Sectra IDS7
Clinical reference case with a Sectra customer
Amplifier Partners available as SaaS
Amplifier Partner applications are provided as a Software-as-a-Service. Sectra manages deployment, service, administration, and invoicing of applications—you simply connect to the cloud and use them directly in the diagnostic application with no need for external launching.
Amplifier Integrators available for integration
Amplifier Integrator applications integrate seamlessly with our diagnostic application. The application vendor manages deployment, support, administration, and invoicing.
Unified technical infrastructure to securely deploy and host applications in the cloud
Our Sectra Amplifier Platform is where we host Amplifier Partner applications and make them available for integration into your diagnostic workflows. A single gateway takes care of communication with the platform regardless of the applications you use.
It is a cloud-based platform that reduces your IT footprint and streamlines provisioning of AI applications.
Connect confidently with the Sectra Amplifier Connector
The Sectra Amplifier Connector provides you with a secure connection between on-prem and the Sectra Amplifier Platform—all you are responsible for is the network connection.
The Sectra Amplifier Connector comprises two components:
Sectra Gateway Connector—Secure connection between the on-prem systems and the cloud-based applications
Sectra Proxy Connector—Service for on-the-fly pseudonymization of outbound traffic and re-identification of incoming traffic, helping to keep patient data safe and protect patient privacy.
Examples of use cases
The radiology applications showcased in our marketplace cover a range of subspecialities such as Neuro, Chest, and MSK. We offer you a wide selection—tailored to your individual needs—to make the adoption of AI into your daily work more seamless.
Adopting AI into your radiology workflow assists you with tasks such as:
Automating volumetric quantifications of brain structures and lesions to verify the diagnosis
Using nodule vessel suppression technology to improve search efficiency and detection accuracy
Automating fracture detection for faster completion of the trauma X-ray report
Visit the Sectra Amplifier Marketplace to learn more about how AI-powered workflows can increase efficiency in your daily work
With increases in imaging requests for breast radiologists, adopting AI into clinical practice provides great benefits that improve workflow efficiency and helps you perform more precise diagnoses with actionable findings. All applications have tight integrations, giving the physician control over what data from AI is stored in the PACS and available for other users to see.
The applications available in our store enhance reading efficiency with tools that:
Assess breast tissue composition to identify patients who may be at a higher risk for developing breast cancer
Detect soft tissue densities and calcifications to help improve cancer detection rates
Identify and mark regions of interest on screening and diagnostic mammograms to provide accurate support creating the result
Learn more about the AI applications available for breast imaging
Digital pathology assists pathologists with processing larger data sets, providing faster diagnoses, and performing more thorough and precise analyses.
Automated image analysis aids pathologists in various ways including:
Detection and counting of tumor cells in digital images to provide accuracy support in breast cancer assessments
Analyzing H&E biopsy tissue specimens for prostate cancer to alleviate your heavy workload and reduce diagnostic subjectivity and variability
AI-based tools such as case prioritization worklist, slide viewer, IHC preordering, and cancer heatmaps support pathologists in the reviewing and reporting of slides.
Browse the Sectra Amplifier Marketplace for digital pathology to discover how AI can increase efficiency in your daily work
Let's talk
Interested to learn more, or to schedule a meeting and/or demo? Don't hesitate to get in touch.
Meet us next at
27èmes journées de l'AFIB
Event
| Breast imaging
| Digital pathology
| Enterprise imaging
| Enterprise platform
| Radiology imaging
OAP 2023
Event
| Digital pathology
| AI in medical imaging
| Sectra One Cloud
Sectra Impact 2023 User Conference
Event
| Enterprise imaging
| AI in medical imaging
| Breast imaging
| Cardiology imaging
| Digital pathology
| Enterprise platform
| Medical education
| Ophthalmology imaging
| Orthopaedics
| Radiology imaging
| Sectra One Cloud
| Share and collaborate