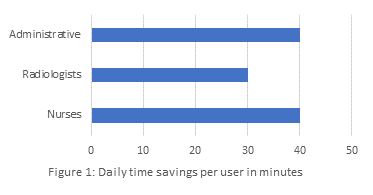 Conclusion
The total time saved for Danderyd Hospital by using the integrated chat functionality Sectra Instant Messenger (SIM) was estimated at approximately 27 hours a day among nurses, radiologists and administrative staff. This calculation was based on an estimation of the daily time savings per user as shown here in Figure 1.
This daily time savings was translated to 7,047 hours per year, equivalent to approximately 4.7 full-time equivalents (FTEs), representing a significant time savings for Danderyd Hospital, which has a total of 47 SIM users.
When I talk with nurses and administrative staff, they say they save many, many hours by not having to run around looking for the right people to ask simple questions. Also, by sending a chat message they don't have to disturb their colleagues in the same way as they would by knocking on the door.
Ellie Khayyam, System Administrator Sectra PACS and RIS, Danderyd Hospital
At night, the radiologists on floor two can chat with those on floor three about image quality, whether the images are sufficient or whether new ones need to be taken—they don't have to walk to another floor and interrupt their workflow.
Evin Kucukyildiz, Radiology Nurse, Danderyd Hospital
Sectra Instant Messenger
Sectra Instant Messenger (SIM) is an integrated chat function for secure communication between users within Sectra solutions and is crucial for establishing efficient workflows. SIM aims to facilitate the daily work of radiologists, nurses, technicians and administrative staff by providing simple ways of sharing information and communicating through the existing user interface, rather than using external applications. The most common uses of SIM are:
Sharing current case using a link
Managing bookings
Providing second opinions
Discuss with colleagues
SIM is fully integrated with the Sectra PACS viewer and has many modern chat functionalities, such as allowing users to show their status (online/away/do not disturb). It also features functions required for clinical tools used to handle patient information, such as saving previous chats in a traceable repository.
Skype for Business integration
SIM provides video communication and screen-sharing in combination with Microsoft Skype for Business. The integration makes it possible to share content, begin a video meeting and make voice calls between users.
Method
This study estimated the time savings achieved by using SIM at Danderyd Hospital in Stockholm, Sweden. We interviewed users with three different roles:
Evin Kucukyildiz, Radiology Nurse
Ellie Khayyam, System Administrator
Radiologist (who wished to remain anonymous)
All three interviewees had several years' experience of using enterprise imaging solutions from Sectra and are frequent users of SIM. The questions asked ranged from assessing the different types of tasks for which they used SIM and how they benefited most from the chat functionality. We also asked the participants to estimate how much time they saved by having access to the chat functionality.
Based on their feedback, an estimation of the total time savings achieved using SIM was calculated. Only the number of staffs that frequently use SIM were counted, and all estimations were made conservatively so as not to overestimate its benefits.
Results
The total time saved was estimated at 27 hours a day among nurses, radiologists and administrative staff (see Table 1). Assuming there to be 261 working days per year and 1,500 hours worked per employee per year, the daily time savings was translated to 7,047 hours per year (27×261) or 4.7 FTEs.
It can be concluded that the chat fulfills different uses for nurses, administrative staff and radiologists, with most chats taking place between radiologists and nurses.
For nurses[1], the greatest benefit arises when contacting radiologists to confirm or ask questions in conjunction with radiology examinations, such as inquiries regarding contrast injections or prioritization, and when it comes to facilitating the scheduling of patients.
For radiologists, the greatest benefit is the ability to ask examination-related questions so as to make better-informed diagnoses or to provide access to the right examination via a link, which eliminates the need to search through worklists. Examples of questions could involve asking a colleague for a second opinion, or adjusting the preferences for an examination.
Both nurses and administrative staff use the chat function to manage the scheduling of patients more efficiently, to facilitate the actual examinations by instantaneously resolving questions and to get in contact with the right radiologist for instructions when it comes to the prioritization of exams.
For all staff surveyed, the greatest time savings was achieved by not needing to leave the workplace and search for colleagues to resolve issues. SIM eliminates the need to walk around looking for the right people or to try to get ahold of them on the phone. All interviewees mentioned that this is especially relevant when trying to find people on different floors or in different buildings of the campus.
Daily planning for the upcoming on-call period is another example where the chat functionality is often used to easily see who is on site and who is not.
Discussion
This study focused on estimating the time savings that can be achieved using an integrated chat tool in PACS. The amount of time saved was found to be significant and the SIM functionality was greatly appreciated by users.
Additional qualitative benefits also arose during the interviews. For example, Evin mentioned that the ability to chat has led to a reduced risk of medical errors since she is able to ask questions directly and act appropriately with regards to patient care.
Both Evin and the radiologist interviewed high-lighted that patient integrity is enhanced since they don't have to write things down, print out papers, or discuss patient information aloud. Evin also mentioned the environmental benefit of being able to eliminate printing.
[1] In the Swedish healthcare system, radiology examinations are performed by specially trained nurses rather than technologists.