Yet another RSNA has passed and we can conclude that this year there were not any new major trends, rather incremental developments of existing trends. Enterprise imaging (EI), AI and workflow orchestration were the main topics being highlighted and discussed at the show. The main trends worth noting from this year's RSNA are listed below.
Enterprise imaging—image access from anywhere
Like last year, enterprise imaging was a hot topic among both exhibiting vendors and attendees at RSNA 2019.
There is currently a shift away from the de-constructed PACS approach towards buying one EI solution for all imaging, provided by a single vendor, where the main goal is enterprise-wide image access. The viewer, workflow, VNA and advanced tools do not necessarily need to come from one vendor, but customers want one provider and contractor.
Few health providers have made any significant progress in the adoption of EI due to difficulties in terms of organization and project orchestration, demonstrating a return on investment (ROI), and the lack of standardization. Issues related to implementation were a common theme. However, there are several successful cases and adoption is increasing.
Another interesting finding is that the ability to handle digital pathology in the EI solution has become almost a prerequisite when selecting a vendor. Speed of viewing, supporting the pathology workflow and, in the US, an FDA-cleared solution are key.
Workflow orchestration—improving operational efficiency
Improving operational efficiency was one of this year's main topics and was promoted by almost all EI vendors. This year, it was more obvious that workflow solutions are provided by the big vendors rather than smaller third-party vendors (as an additional layer). Workflow functionality seems to be sold under the AI umbrella by most vendors.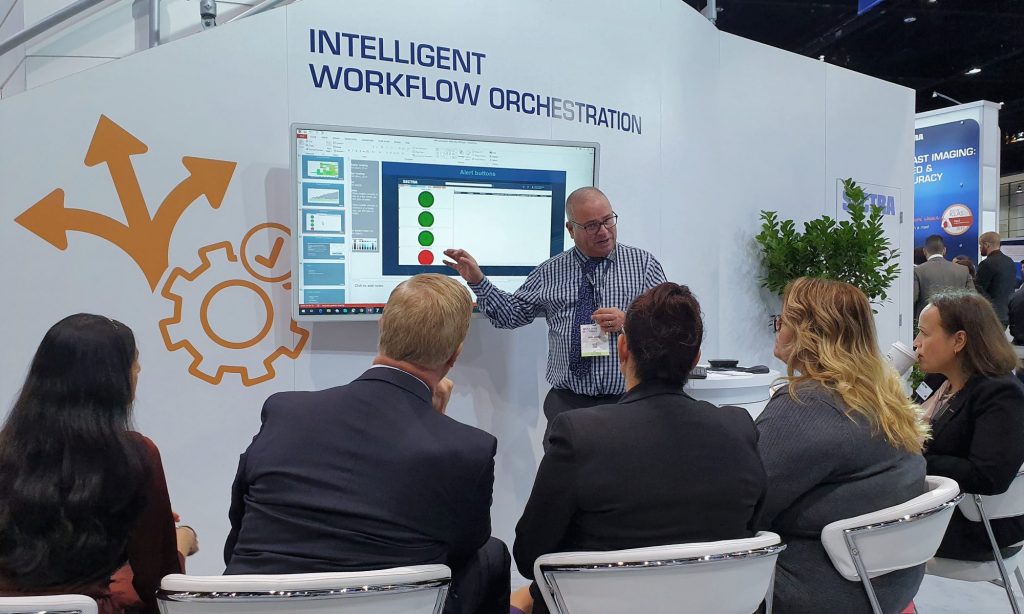 AI is still a hot topic—but focus has changed
The discussion as to whether radiologists will lose their jobs because of AI seems to have shifted to a sense of impatience for real implementation to take place. Many expressed that they "have moved from fear to impatience."
Another issue when it comes to AI is differentiation. Most vendors presented very similar AI solutions, probably because these areas have displayed a need and can deliver a positive ROI, or have available data.
The general perception is that visitors have now shifted focus from smaller start-up companies that provide one/a few applications to larger EI/modality vendors that can offer a full portfolio of AI apps under a single offering and platform (so-called marketplaces).
This year's RSNA AI Showcase was somewhat of a disappointment. Its size was in inverse proportion to the amount of visitor traffic, the maturity of the products and the number of implementations. The number of companies in the AI Showcase increased yet again—from 43 in 2017 and 75 in 2018, to 129 in 2019— although those that participated are clearly facing tougher financial demands. We have probably reached the peak in terms of the number of companies (and perhaps the peak of the hype?) and can expect a consolidation in the coming years. We can also conclude that AI still has a long way to go before large-scale deployment, especially for diagnostic applications.
However, AI-assisted workflow functionality and structured information exchange have made further inroads into clinical practice than diagnostic tools. Workflow AI is now offered by most EI/modality vendors in the technical exhibition.
Another finding is that some teleradiology companies are building their own AI solutions and PACS applications, and they are among those showing the greatest interest in AI.
Cost models, payments and ROI were the unspoken questions this year—with no clear answers.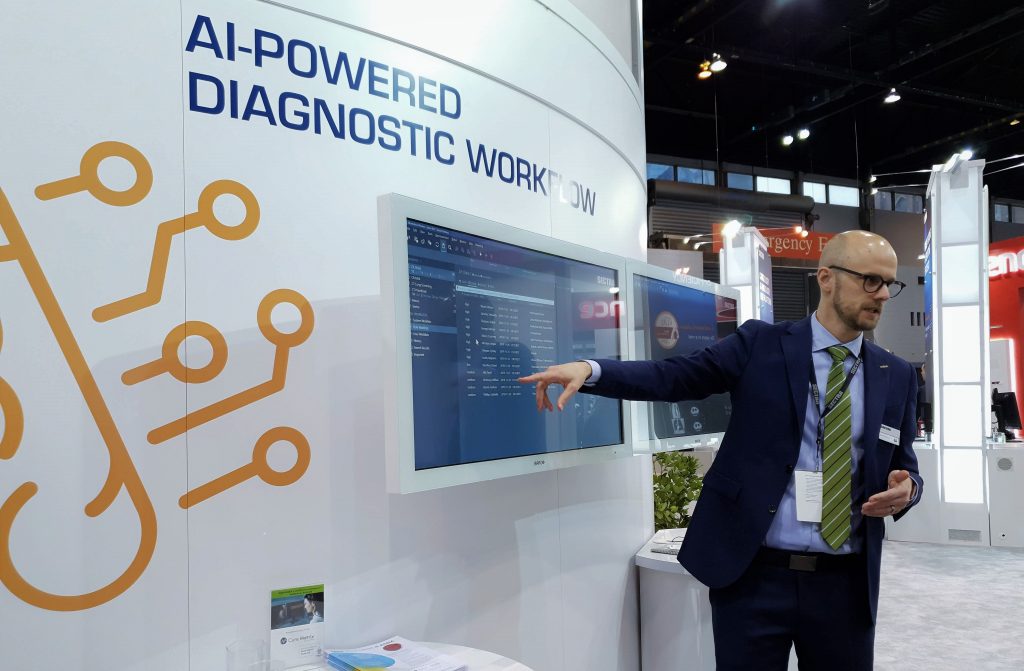 Breast imaging is advancing fast
Digital breast tomosynthesis (DBT) is developing very quickly and was promoted by several vendors (together with ultrasound and ABUS). When it comes to DBT screening, significant challenges and questions remain in terms of efficiency, efficacy, safety, and quality assurance as well as the long-term effect on mortality (according to at least two RSNA conference sessions).
MRI for breast imaging was a hot topic in sessions and among vendors, partly fueled by the recent study by Wouter Veldhuis, radiologist at the University Medical Center Utrecht in The Netherlands, showing a significant reduction in interval cancers for women with dense breasts.
Digital pathology—starting to take off in the US
Many conference sessions mentioned that recent FDA clearances have allowed the implementation of digital pathology. One session mentioned that the lag in comparison with the EU "is allowing the US to learn from early experiences and become leading edge instead of bleeding edge."
Radiologists highlighted the need for pathology report access as this provides a valuable datapoint as diagnostics become more advanced (advanced cancer treatments).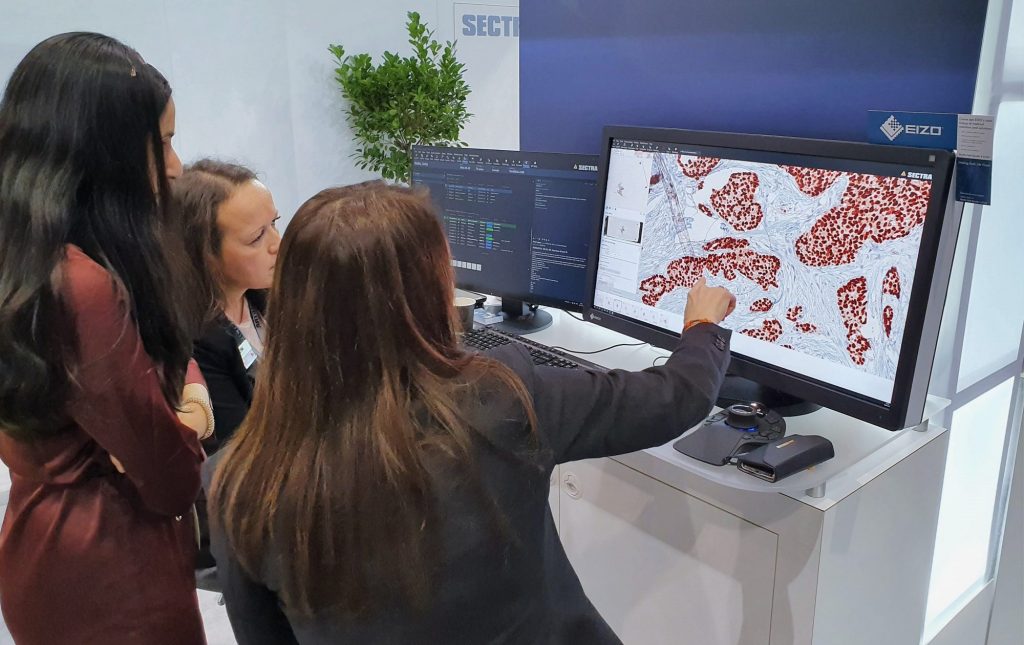 Photographs assist radiologists
Photos taken by the GP, primary care provider or patients are more commonly being requested by radiologists as they can assist in many diagnoses. Numerous vendors showcased different solutions for this. Again, many care providers are facing issues with EI systems not supporting such workflows, and privacy/anonymization is a problem.
Structured reporting—a main topic as expected
A hot topic as usual, where radiologists highlighted the need for fully integrated structured reporting templates and integrations with AI.
Integrated diagnostics
There were several good conference presentations on the topic, including a presentation by Mitchell D. Schnall, Penn Medicine's Chair of Radiology, who shared his thoughts.
Although the clinical benefits of integrated diagnostics are large, there was little focus from vendors other than Sectra on the topic, probably due to the lack of concrete customers.
The revival of the cloud
'The cloud' received much greater focus than at RSNA 2018 and was promoted by several vendors. Cutting costs and better accessibility to patient data seem to be the main drivers for going cloud. The question is whether the market is ready for utilizing public clouds yet. A major difference this time seems to be that patient integrity is being taken seriously.
Personalized re-planning—increased collaboration between vendors
We are seeing increased collaboration between medical imaging and radiation therapy. This is mainly driven by the need to adjust the treatment plan based on the initial CT scan and tailor it to changes in tumors and surrounding organs.
For example, Canon announced a partnership with RaySearch, and Fuji acquired the Japanese radiation therapy company Yokogawa. This was also a hot topic during various conference sessions.
Evidence-based purchasing
Evidence has become an important factor in radiology purchasing, which is reflected in vendors' marketing efforts to back up their claims with proof of how their solutions can boost productivity and/or quality. This was especially noticeable looking at the messages in some of the leading vendors' booths and pre-show articles.
One user interface is key
Radiologists no longer have time to switch applications and perform multiple logins—they need a single workstation for all tasks. This is driving a trend wherein the PACS, viewer and advanced visualization software are merging into one application. EI users want one interface to access all kinds of images and clinical tools, making tight integrations and native applications more important than ever.
Less technical universal viewer
Several customers suggested that the universal viewer needs to be refocused to serve a broader set of physicians. Hence, it should be less radiology-focused and less technical. Its main purpose is to show images and patient information from anywhere and to be understood by a GP.
Patient interaction—important to improve satisfaction
The issue of radiologists being able—and having the opportunity—to interact with patients was a hot topic that was highlighted, for example, in the keynote speech. A major driver is the fact that the patient experience and patient satisfaction are now an important part of value-based care.
For many patients, satisfaction requires better access to radiology images, patient friendly reports, and radiologists themselves. However, the very real pressure to manage high case volumes is an issue.
Image streaming
A major trend this year was the increased use of streaming technology and server-side rendering, mainly driven by the increased data size of images. It seems like a buzzword that many radiologists have started to ask for (similar to "deconstructed PACS" in 2012), but what they are really asking for is faster viewing of images. Speed and the ability to handle growing image sizes with high performance are now more important than ever.
There was also some discussion about the option of allowing patients to stream images instead of sending them CDs or USBs.
Informatics
Many sessions highlighted the need for radiologists to become specialists in informatics. The reason for this is the emerging demands being placed on informatics solutions, including: understanding AI, workflows that require efficient communication with technologists, the need for more information from the EMR, the need to keep up with changes in CMS and reporting, etc.
Radiologist burnout
Was addressed both in sessions and by some vendors. It was discussed as one of the areas where AI can assist the most.
How this issue impacts radiology is something you can read more about in The radiologist's handbook for future excellence 2020, which Sectra published in time for this year's RSNA.
Agfa to sell its HIS and PACS business in France, DACH and Brazil
In the French, DACH and Brazilian markets, Agfa-Gevaert Group (parent company of Agfa HealthCare) "sells" its HIS and PACS business to the EMR company Dedalus. The solution in these markets is based on a different platform than the PACS sold in other markets. This means that Dedalus is basically buying market shares.
Other hot topics (not EI/PACS-related)
Point of care ultrasound
This was a very hot topic among modality vendors. A challenge many face is where to store the images, and many seem to be adopting EMR solutions instead of using a VNA or EI. The reason is that few EI/VNA solutions support a workflow for uploading and consuming POC US.
Point of care MRI/CT/DX
Also known as "CT/MRI on wheels", point of care MRI/CT/DX are becoming more common but the image quality is still not satisfactory, and they are often very noisy. However, the low field strength of MRIs is beneficial. For example, Fuji performed live scans in their booth.
3D printing
An entire section was dedicated to 3D printing companies and many conference sessions covered the topic. The main application areas seem to be implants and surgical planning. However, many interesting new use cases were shown, such as printing a new cornea out of stem cells or printing tumors to test medications before they are given to the patient.
Adoption has increased since last year when DICOM released their STL file format usually used in CAD engineering.
Product
| Enterprise platform
| Enterprise imaging